'Dance Moms' Cast Takes Over YouTube: Chloe Lukasiak, Paige Hyland Are No Longer Just Lifetime Stars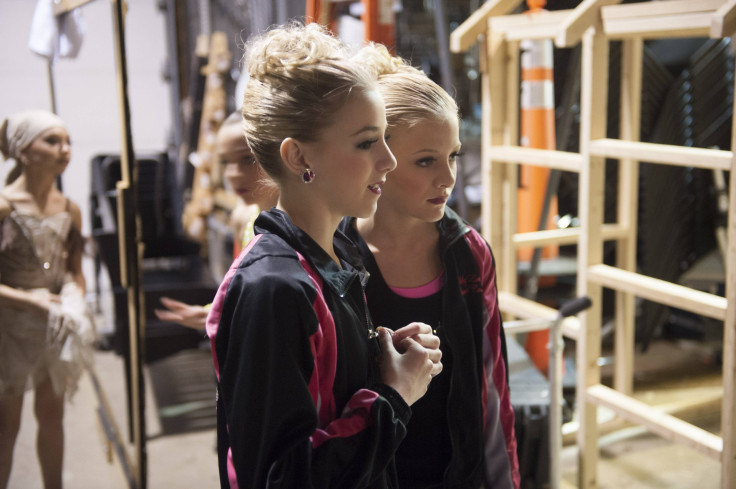 It's unknown if Chloe Lukasiak will return for Season 5 of "Dance Moms" when it premieres on Lifetime in January, but one thing is certain, if her reality-TV career doesn't pan out, she can always make it big as a YouTuber.
Following the shocking Season 4 finale of the dance-competition series in October in which Chloe, 13, revealed she no longer wanted to study dance with coach Abby Lee Miller, the teen has become active on YouTube. Her account, which she first started back in 2010 ahead of her "Dance Moms" experience, has seen some activity over the years. However, the former Abby Lee Dance Company star's frequency in posts has spiked in recent months and fans of the reality series have definitely taken notice.
Being a fan favorite on "Dance Moms" apparently has it perks. Chloe's account, currently at 142K subscribers, has recieved with a total of over 16.2 million views since its conception. Her videos, which feature YouTube beauty guru staples such as a closet tour, a fan Q&A, and book reviews, have recently peaked in both quality and popularity, some receiving upwards of 148K views. Her recent, popular 50 Questions tag even appears to pay tribute to Vogue's 73 question video series by having the interviewee appear to be busy with another task. In this case, it's Chloe doing her schoolwork. Older videos, such as a homemade music video with her co-star Maddie Ziegler, are close to hitting the coveted 1 million views mark on the site.
Chloe isn't the only "Dance Moms" star to take to YouTube after achieving reality-TV fame. Her good friend and former co-star, Paige Hyland, has also found a home on the video-sharing site. In November, Paige, 14, announced she would be posting weekly videos to her Official Paige Hyland account. Some of her most recent contributions includes a Q&A about her time on "Dance Moms," and a competition makeup tutorial.
Following in Chloe and Paige's footsteps, "Dance Moms" newcomer and "Abby's Ultimate Dance Competition" Season 2 contestant Kalani Hilliker, has also started using YouTube to connect with her fans. The Arizona native started a channel "Kalani and Addy" with her fellow Club Dance student, Addison "Addy" Moffett, in October. The duo's most recent video, "Boy Advice," even featured a special guest, 12-year-old "Dance Moms" star, Kendall Vertes. After receieving some flack for the video's topic, the duo changed the video's listing to "private" Wednesday.
While the girls' YouTube ventures are recent, the young stars of the Lifetime series are not unfamiliar with internet fame. All of the original "Dance Moms" stars have upwards of 477K followers on Twitter. On Instagram, the girls each have over 1 million Instagram fans. Maddie, 12, the star of Sia's "Chandelier" music video, takes the lead on her Instagram page with 2.2 million supporters. Meanwhile their coach, Abby Lee Miller, has an equally impressive 1 million fans on Instagram.
The cast of "Dance Moms" is currently filming Season 5. On Wednesday, Lifetime confirmed that the show will return Tuesday, Jan. 6.
© Copyright IBTimes 2023. All rights reserved.
FOLLOW MORE IBT NEWS ON THE BELOW CHANNELS