Who Is Maddie Ziegler? Meet The Sia 'Chandelier' Music Video Dancer, 'Dance Moms' Reality Star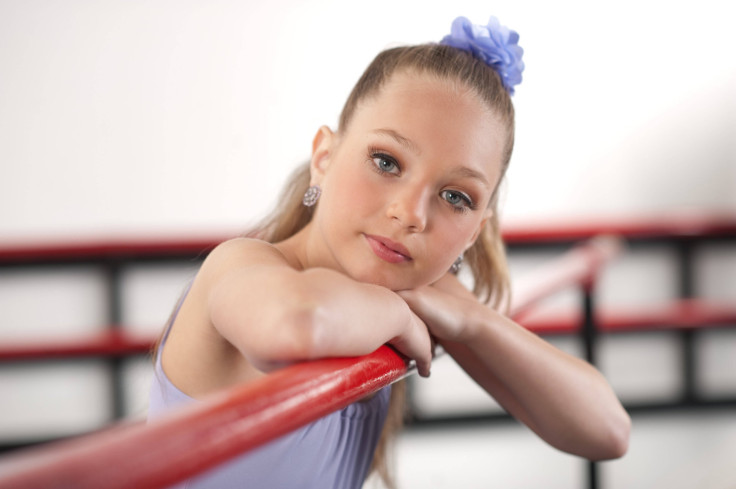 Maddie Ziegler has long been known by fans of Lifetime's series "Dance Moms," but for those not in-the-know, here are seven fast facts about the 11-year-old powerhouse and star of Sia's new music video "Chandelier":
She is an original "Dance Moms" star
Since the show's July 2011 debut, at the tender age of 8, Maddie has starred as one of several dancers on Lifetime's "Dance Moms," a series that follows a group of award-winning youngsters and their stage mothers across dance competitions nationwide. Alongside her mother, Melissa Ziegler-Giso, and her sister, fellow dancer Mackenzie Ziegler, now 9, Maddie has been featured on 103 episodes. The show, currently on hiatus, recently started production on the second half of its fourth season.
She is one of Abby Lee Miller's star pupils
As a frequent first-place title winner, Maddie has long been a favorite of Abby Lee Dance Company teacher and "Dancing With the Stars" guest judge Abby Lee Miller. The infamously tough Pittsburgh-based coach, who consistently refers to the lyrical powerhouse as having star potential, is frequently bashed by viewers (and her co-stars) for showing favoritism towards the youngster.
She is the star of Sia's new music video
In true Sia style, the secretive songstress does not star in her latest music video "Chandelier." In her place, the 38-year-old singer put in Maddie to portray a seemingly disturbed girl in the haunting three-minute piece. Just one week after its YouTube VEVO debut, the video has reached more than 6.7 million views and has received more than 68,000 "likes," with a majority of viewers commenting on the dancer's captivating performance.
She is set to appear on "Ellen"
Following her solo performance in Sia's music video, Maddie was invited to perform the modern dance number on "The Ellen DeGeneres Show." The pre-taped segment is reportedly scheduled to air next Monday. "WOW! So many great people today and such a wonderful experience," Maddie shared on Instagram after filming wrapped for the show Wednesday. "Ellen is the best and I can't thank her enough! I also adore Sia!" added the tween.
She is frequently pitted against dancer Chloe Lukasiak
Maddie is consistently compared to her fellow "Dance Moms" co-star and equally stunning performer, Chloe Lukasiak, 12. While the two girls claimed to be friends despite four seasons of going head-to-head at competitions, the pair admitted that their relationship was not without complications on the TV special "Girl Talk" in April. "I mean obviously we're best friends but sometimes it's kind of hard because we are always competing against each other," Chloe said. "We kinda have to like each other," Maddie added. The network last pitted the girls against one another on the May 13 TV special "The Battle of Maddie vs. Chloe."
Her sister is a pop star
In similar Ziegler fashion, Maddie's sister Mackenzie is also on her way to Hollywood stardom. Mackenzie's debut album "Mack Z" shot to the top of the charts in iTunes just days after its release in April, the youngster beating out Katy Perry and Bruno Mars for the number one album spot. Mackenzie's first music video for her single "It's A Girl Party" (featuring a cameo from big sis Maddie) has more than 300,000 views on YouTube.
She is home-schooled because of dance
In an effort to scheduled in more dance training, Maddie and her sister Mackenzie are both home-schooled. "I'm so happy that she is working on her ballet and having these privates and she's home schooling so that the mother can get her here and do this," Miller revealed on "Dance Moms" in January. "Maddie is homeschooled and it is opening numerous doors for her and that was my goal to begin with," she added.
"It's the best thing for us. They have more time to dance. I'm happy, my girls are happy, and Abby's most certainly happy," Ziegler-Giso said of the decision.
© Copyright IBTimes 2023. All rights reserved.