'Dance Moms' Recap: 7 Best Moments From 'Girl Talk,' No Moms Allowed Reunion Special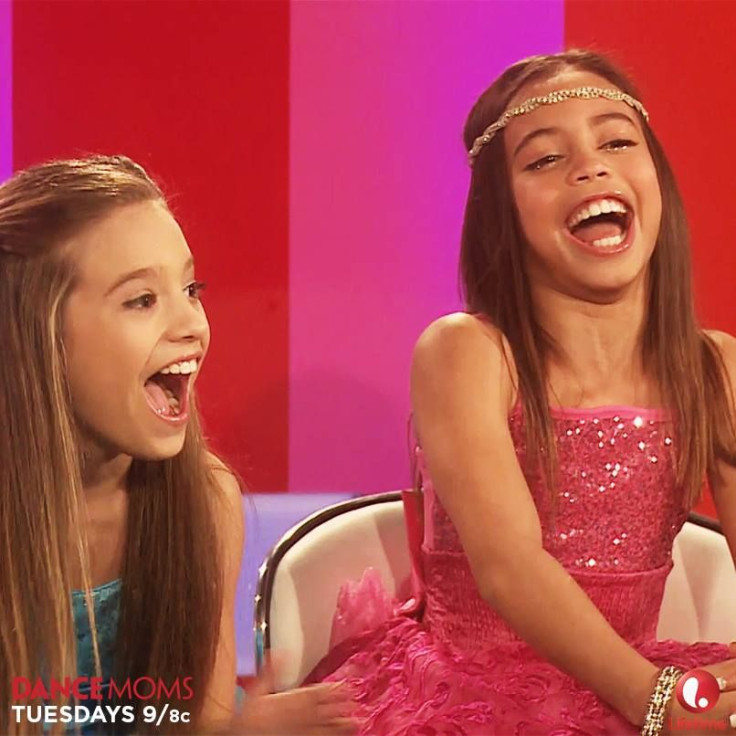 Part one of "Dance Moms" Season 4 officially wrapped Tuesday night with Lifetime's world premiere of the first kids only reunion special "Girl Talk." While the one-hour program, which allowed the kid stars of the reality-TV series to talk for the first time without being interrupted by their mothers and coach, Abby Lee Miller, was a must-see for fans of the dance competition program. For those who missed the program, here is a recap of the seven best moments:
Maddie and Chloe work out their friendship
Well… sort of. While ALDC dancers Chloe Lukasiak, 12, and Maddie Ziegler, 11, confirmed they're still close despite years of going head-to-head at competitions, the future of their friendship still seems a little murky. "I mean obviously we're best friends but sometimes it kind of hard because we are always competing against each other," Chloe said. "It's like one day we're best friends and the next day we have to focus and get in our zone," Maddie said, adding, "We kinda have to like each other."
Maddie says, "I'm not perfect"
Maddie and the rest of the ALDC had no qualms about admitting that the lyrical powerhouse is a favorite student of Miller's, but according to the young dancer, favoritism sometimes comes with its own stresses. "Sometimes it's hard being one of Abby's favorites," Maddie said. "Abby's always like, 'Well, Maddie can do this and Maddie can do this,' and I'm like, you know, I really can't always do that stuff… I have to work so hard."
Payton says Abby has a thing for drag
According to part-time ALDC team member Payton Ackerman, 16, Miller has a thing for bringing guest stars onto "Dance Moms" who enjoy dressing in drag. "I think Abby really wants to be a drag queen because she always brings them on [the show]," Peyton said when discussing her Season 4 routine "Kinky Boots," based off the hit Broadway show of the same name.
Nia the death drop queen
Speaking of drag queens… according to dancer Nia Frazier, 12, her signature move continues to be the death drop she was taught by Shangela aka "Laquifa" during season one. "You know what, she taught me a good lesson, to be yourself and be fierce," Nia said. "Now everywhere I go, I do the death drop," she said. "Now you're the ultimate death dropper!" Chloe added.
Chloe says she's fine being second
While fans and dance mom Christi Lukasiak constantly berate Miller for her treatment of Chloe, the young performer said she is ok not being Miller's go-to girl. "I am today because maybe I'm not the favorite all the time and I have to learn to accept that" Chloe said.
Asia makes a cameo
Former "Dance Moms" star Asia Ray, 8, made an appearance on Lifetime's kids-only reunion Tuesday, appearing alongside her former ALDC rival, Mackenzie Ziegler. "We're friends," Mackenzie, 9, confirmed. "No enemies. Only on the dance floor," Asia added. "The battle is only on the stage. You leave it there."
Farewell to Brooke and Paige
The girls discussed their thoughts on the departure of ALDC dancers Brooke, 16, and Paige Hyland, 13, Tuesday, with Chloe appeaing to take the sister's leave from the Lifetime series the hardest. "I was pretty close with Brooke. I mean, even though she was a teenager, I think that I bonded with her really well and I was always with her." Chloe said, also recalling her former plans with Paige to move to Los Angeles and have a double wedding. "We were supposed to have the same dress on our wedding day because we just drew it that way. I was supposed to have pink flowers and she was supposed to have purple. We were supposed to be with each other forever," she said.
Similar to Chloe, the other girls also appeared solemn about the duo's departure, Maddie saying, "Even though they're not with us right now, they're still always going to be a part of the team."
© Copyright IBTimes 2023. All rights reserved.