'Daredevil' Season 1 Spoilers: 8 Things To Know Before The April 10 Series Premiere On Netflix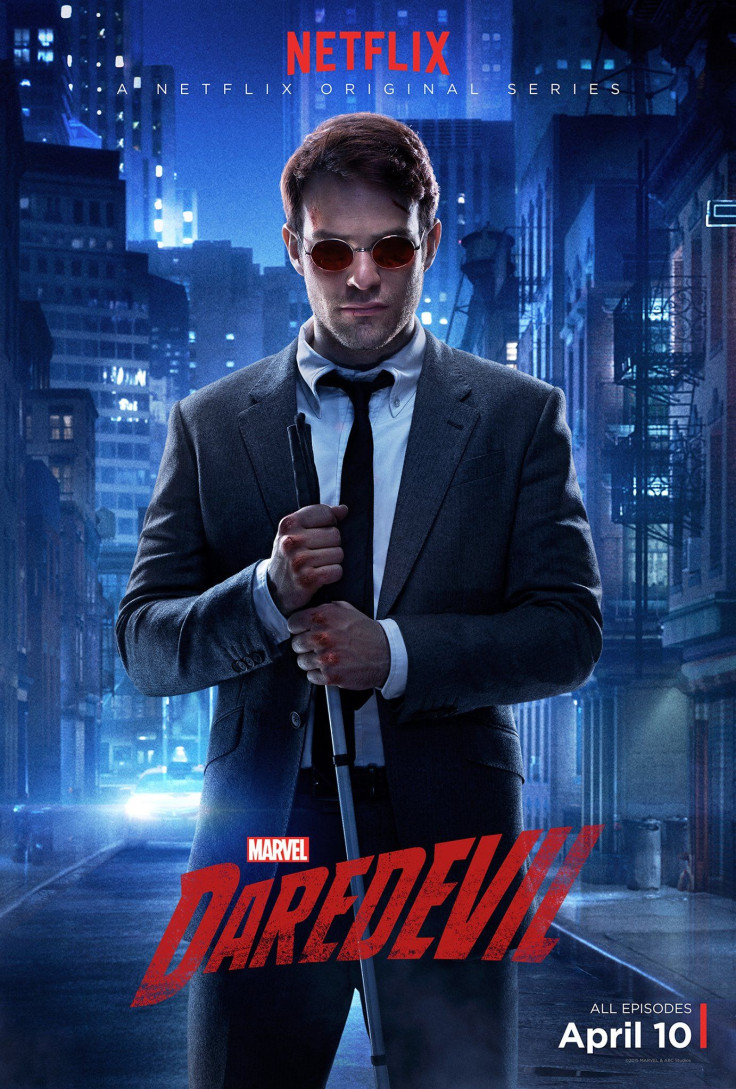 Netflix's new series with Marvel is sure to please superhero fans. "Daredevil" tells the story of Matt Murdoch (Charlie Cox), a blind vigilante who decides to fight crime in his city. All 13 episodes of "Daredevil" Season 1 will be available to stream on Friday, but there are a few things fans should know before tuning in.
1. No crazy powers. Matt isn't a super soldier or a Norse god. He was blinded by chemicals as a kid, so now he uses his enhanced senses to fight crime as Daredevil. "He isn't superhuman — he's just a guy who's very, very driven," executive producer Steven S. DeKnight told USA Today.
2. A different suit. Because this is an origins story, the Daredevil suit doesn't exist yet on the show. However, it will come into play eventually. "You will seen an evolution from what you've seen in the trailers from the black ninja costume," Cox said. "You'll see an evolution into something that more resembles the classic Daredevil superhero costume. I can't say more than that."
3. It's dark. "Daredevil" has a much darker tone than other Marvel stories. Viewers should expect the content to be grittier than "Marvel's Agents of S.H.I.E.L.D." Without broadcast television regulations, the Netflix show can be much bloodier when necessary.
4. Leaving the comics. Karen Page (Deborah Ann Woll) was Matt's love interest in the "Daredevil" comic books, but it seems that won't happen in the show, at least not immediately. He'll fall for Claire Temple (Rosario Dawson) first, according to TV Guide.
5. Connections. Fans shouldn't expect a cameo from any of the Avengers, but this is still part of the Marvel Cinematic Universe (MCU). The pilot establishes a connection to "The Avengers." Also, Claire is the ex-wife of Luke Cage (Mike Colter), Dawson told Time. Luke will be on Netflix's other Marvel series "Jessica Jones" and "Iron First." However, "Daredevil" is as standalone as Marvel gets.
"Marvel was clear they wanted this to stand alone," DeKnight told Entertainment Weekly. "It's part of the Marvel Universe, but it doesn't build on that. That said, there are a ton of Easter eggs."
6. Moral gray areas. There isn't just good and evil in "Daredevil." The series won't show the good guys putting the bad guys in jail to let the legal system work properly. Daredevil will be serving justice on his own terms. "'Justice is blind' is the tagline, and that's not just a nod to Matt Murdock's blindness," Dawson explained. "We turn a blind eye a lot to how justice is served and what it looks like. The lines between good guy and bad guy blur. It begs the question, what would you do?"
7. Binge watch it. The show's writers discussed how much they would need to remind audiences of previous events on the show before realizing that episode recaps were unnecessary. "We had a brief discussion about it," DeKnight told the New York Times, "and decided: 'Eh, why does that matter? People are going to binge-watch this.'"
8. Ignore the Ben Affleck movie. While this is the same blind superhero, it isn't quite the same story. This will be a different retelling of Daredevil's origins, so the 2003 film is definitely not required viewing for new fans.
"Daredevil" premieres Friday on Netflix. Will you watch the new Netflix show? Sound off in the comments section below!
© Copyright IBTimes 2022. All rights reserved.
FOLLOW MORE IBT NEWS ON THE BELOW CHANNELS