'Dating Naked' Season 2 Spoilers: 11 Wild Episode 7 Moments, From Tearful Eliminations To Twerking Cowboys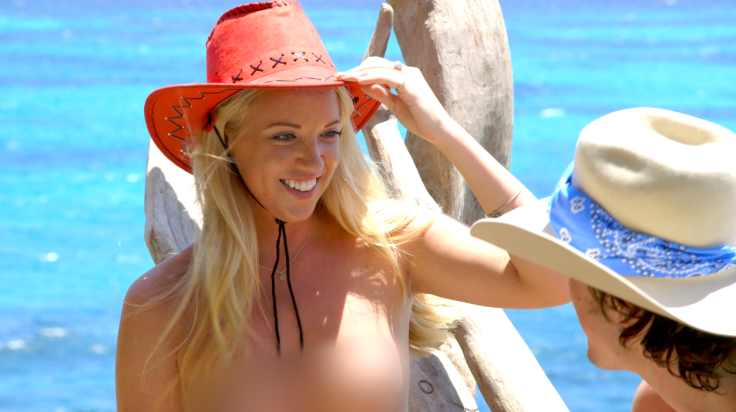 Things are starting to get pretty intense on Season 2 of "Dating Naked: Playing for Keeps." On Wednesday night, the hit VH1 reality dating show aired the drama-ridden installment, titled "Smooches and Sabotages" – and just like the episode 7 title suggests, relationships were definitely ruined during the chaotic hour.
One of the romances that crumbled to the Thailand sand during the seventh episode was between Kerri, the main lead on "Dating Naked," and Justin, the 25-year-old hunk who won over audience's hearts with his humor – and abs. But not even Justin's sexy six-pack could save him from being eliminated during "Smooches and Sabotages" after he unveiled his hot-headed ways.
"There was a point where Justin started jumping up and down while he was yelling like a f---ing child throwing a temper tantrum. I cannot express how unattractive that is," Kerri said during a confessional. And ultimately, it was Justin's bad behavior that led to him being sent home.
During an interview with Whip Clip, the "Dating Naked" contestant stated that he would "absolutely" date naked again, claiming he learned a lot about himself through the experience.
"I had a blast meeting people and learning some stuff about myself and how I act in certain situations," he said.
But Justin's break down wasn't the only wild moment from episode 7 of "Dating Naked." Check out 11 of the craziest scenes from "Smooches and Sabotages" below:
1. Dating Naked Alum Returns
2. Digs Are Thrown
3. Kerri's Loving The Competition
4. Behold, A Twerking Cowboy
5. Not A Fan Of Country?
6. Maybe This Is More Kerri's Taste...
7. Justin Picks A Fight
8. What A Turn Off
9. Casey Gets The Cowboy Boot
10. Natasha's Strange Sendoff
11. Real Men Cry
What did you think of episode 7? Sound off in the comments section below and make sure to tune in to Season 2 of "Dating Naked: Playing For Keeps" when the VH1 reality show airs Wednesdays at 9 p.m. EDT.
© Copyright IBTimes 2023. All rights reserved.