David Bowie Death: Wife Iman's Rare Interviews Tells Story Of Their Fairytale Romance, Long Marriage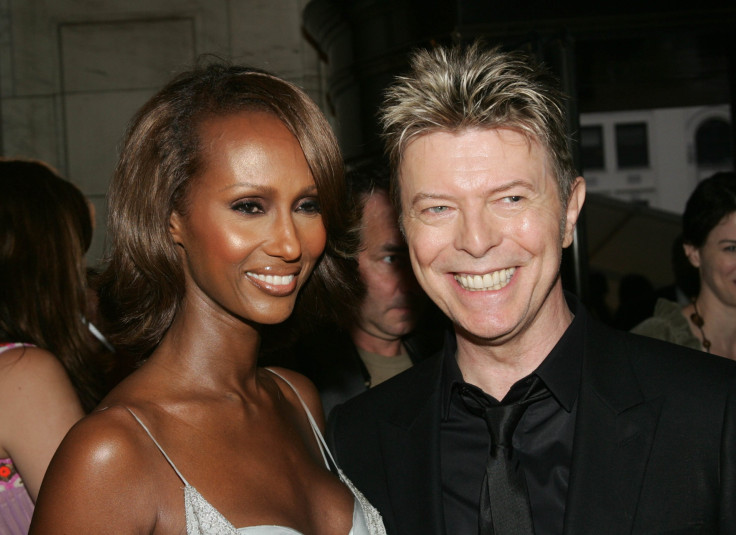 To the world, David Bowie was a legend, an icon and a musician-composer who broke boundaries without a care in the world. To his longtime wife, Iman, he was David Jones, a man she deeply fell in love with more than two decades ago.
The couple, who met in the fall of 1990, rarely gave interviews about each other, but at the times Iman did open up about their relationship, she was able to provide glimpses of a man who was much different from his rock star persona.
For Bowie, his attraction to Iman (full name Iman Mohamed Abdulmajid) was immediate. The "Let's Dance" singer has been quoted many times as saying that he "was naming their children the first time" he laid eyes on her.
"It was absolutely immediate," he said, according to Acts Of Faith blog.
But for Iman, she was reluctant to date the world-famous rocker.
"I was not ready for a relationship," she admitted to the Guardian in 2013. "Definitely I didn't want to get into a relationship with somebody like him."
Bowie, however, was determined to change her mind.
"I remember once we went out to dinner and the laces on my trainers [sneakers] came undone," she recalled. "And David was down on his knees in the middle of the street, tying them for me. I thought to myself, 'This one's a keeper.'"
She continued, "His actions spoke louder [than words]. We were dating for two weeks and I was coming from Paris and I got to L.A. at the airport and the doors open to the plane and I come out and I see all these people taking a picture of somebody. And he was standing there, flowers in hand, no security. … He didn't care if anyone saw."
Iman said it was in that moment she knew she had found her soulmate.
"As I always said: I fell in with David Jones. I did not fall in love with David Bowie," she later said, via Mirror. "Bowie is just a persona. He's a singer, an entertainer. David Jones is a man I met."
Bowie and Iman would go on to date for two years before marrying in a small ceremony in Lausanne, Switzerland, on April 24, 1992.
"My attraction to her was immediate and all-encompassing. I couldn't sleep for the excitement of our first date," Bowie told Hello! magazine in 2000. "That she would be my wife, in my head, was a done deal. I'd never gone after anything in my life with such passion in all my life. I just knew she was the one."
Eight years later, they would welcome a daughter named Alexandria Zahra Jones, now 15. Each already had a child from previous relationships. Iman once said the birth of Alexandria brought her and Bowie closer together.
"There's a joy or a contentment that's almost palpable to both of us," she told Hello!. "Overnight, our lives have been enriched beyond belief."
Throughout their years together, Iman and Bowie's love and admiration for one another remained strong. In 2010, after 18 years of marriage, the model continued to gush about her husband.
"I still fancy him – totally – after all these years," she told Harper's Bazaar. "He always makes me laugh. It's like cabaret. I keep him entertained too."
Bowie died Sunday at the age of 69 after an 18-month battle with cancer. He was surrounded by his wife Iman, and their children.
© Copyright IBTimes 2023. All rights reserved.