Day Care Owner Arrested After Police Found 26 Children Behind Fake Wall
KEY POINTS
58-year-old Carla Faith was arrested Monday after authorities discovered 26 children and two adults behind a fake wall last month
Faith's day care license only permits her to care for up to six children between the ages of zero and 13, with no more two children should under be the age of two
She was booked on suspicion of reckless child abuse without injury and attempt to influence a public servant
A Colorado Springs day care owner was taken into custody earlier this week after authorities discovered 26 toddlers behind a fake wall last month.
The arrest of 58-year-old Carla Faith came a month after the Colorado Department of Human Services and police officials checked on Faith's day care facility, Play Mountain Place, and found more than two dozen children and two adults inside her home, according to The Gazette.
The licensed day care facility, which was attached as a secondary building of Faith's home, was searched after authorities received complaints that she was "housing more children in their care than their licensed allowed," said ABC News, citing a statement from the City of Colorado Springs.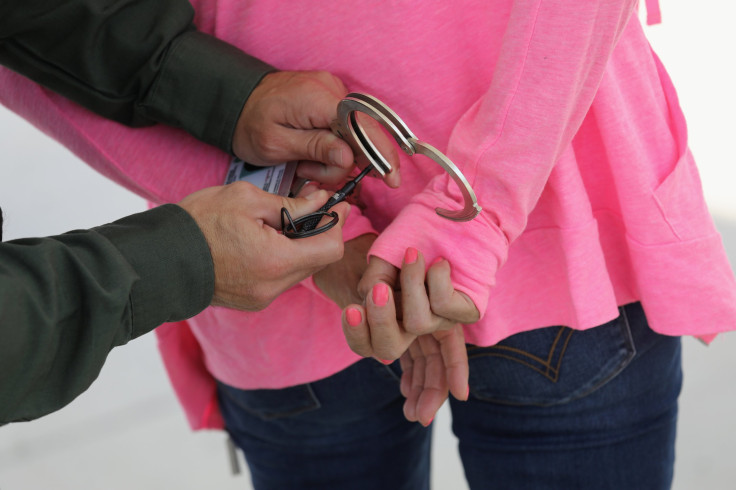 Colorado Springs officer Janel Langdon-Issac discovered the adults and children in the basement after hearing children's music. Faith previously denied that there were children in her care that day, although an affidavit pointed that a mother had dropped off her child at the facility.
Faith denied that there was a basement and that the children were in a park, added The Gazette.
Langdon-Issac also found a stack of children's backpacks in a closet. Again, Faith defended herself, and told the police that she had volunteered to clean them for soccer practice.
Officer Jordan Parker, who arrived at the scene and helped with search, bumped into a wall and felt it move. After moving a potted plant, the officer noticed a seam that separated the fake wall from the actual wall.
Parker pulled the fake wall to the right and found a stairwell leading to the basement where the 26 children under the age of two, and two adults were found. Most of the children had soiled diapers, sweating and thirsty, said that affidavit.
Parents were notified about their situation of their children and went to to say that they were unaware that their kids were being housed in the basement.
Faith's day care license only permits her to care for up to six children between the ages of zero and 13, with no more two children should under be the age of two.
Faith was booked into the El Paso County Jail on suspicion of reckless child abuse without injury and attempt to influence a public servant. She was able to post a $3,000 bond Wednesday, said the New York Post.
© Copyright IBTimes 2023. All rights reserved.