'Days Of Our Lives' Spoilers: Brady Urges Eric To Find Nicole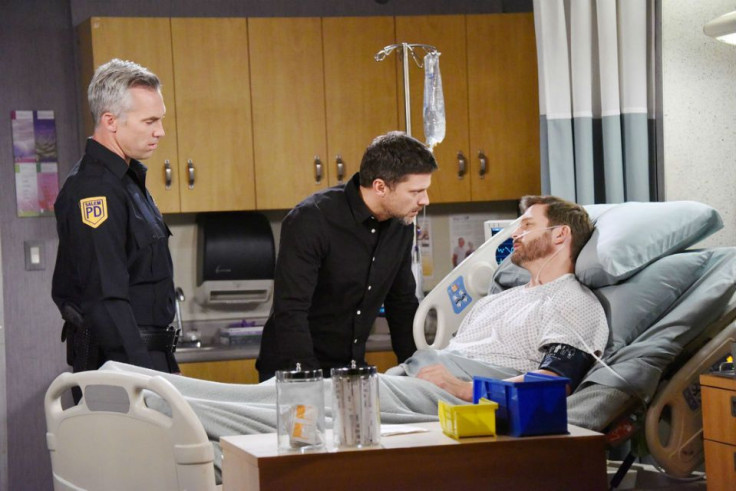 The search is on to find her and baby Holly before great harm comes their way. Now, despite his no longer being someone Nicole has good feelings for, Eric will find himself urged to try and find her before it is too late on the Friday, May 5 episode of "Days of Our Lives."
Nicole (Arianne Zucker) and Holly were kidnapped by none other than Xander (Paul Telfer) on the NBC soap, and everyone is frightened about what might happen to them as a result. Xander has a violent history, especially when it comes to Nicole, who he has tried to kill twice before. As several people try to track down where he may have taken her, Eric (Greg Vaughan) will find himself potentially joining the fray, as a now hospitalized and likely to be arrested Brady (Eric Martsolf) urges him to be the one to find the woman they both have loved.
Brady will ask his brother to find Nicole, whom he is now in love with because he knows if anyone will be able to do it, it will be the man who also once loved Nicole and helped her through several situations. Eric too was one of Xander's targets once upon a time, and he and Nicole shared deep feelings for each other some time ago. However, after their rescue from the furnace Xander locked them in a few years back, Eric descended into alcoholism, and his actions had severe consequences on his relationship with Nicole, culminating with his driving drunk on New Year's and accidentally killing Daniel, whom she was supposed to marry.
Knowing that he may the last person Nicole will want to see if he can find her, Eric may initially resist going through with Brady's request. However, he could be persuaded if Brady gives him a genuine reason why he should.
Read: Nicole and Holly Are Put In A Dangerous Situation On "Days Of Our Lives"
However, Eric isn't the only one trying to figure out where Nicole is. Deimos (Vincent Irizarry) is also putting on a show about trying to find her, but others are suspicious that he may have had something to do with her being kidnapped in the first place, since it had been his responsibility to make sure Xander was dead, and he lied and claimed he was. These suspicions about Deimos are all warranted however, though no one has yet caught on to just how complicit he is in this turn of events.
Deimos hired Xander to track down Nicole and Brady in their Canadian cabin and take off with Nicole and Holly to an island in Greece, as a favor for sparing his life a few months ago. Xander acted accordingly, and now has Nicole stashed away in a home on the Greek Island that no one knows about just yet. The plan is for Deimos to arrive there and be her knight in shining armor who rescues her and takes care of Xander, but with a sinister twist. Deimos will plan on then keeping Nicole stashed away completely for himself—and could run off with her again if he does find her. Since he is the competition to find her, it will make Eric's mission all the more important.
"Days of Our Lives" airs weekdays on NBC.
© Copyright IBTimes 2023. All rights reserved.