'Days Of Our Lives' Spoilers: Gabi And Chad Both Land In Trouble
She's in prison serving time for a murder she did not commit and he has been trying to find the woman he believes really committed the crime. However, both Gabi and Chad will find their worlds changed forever when new dangers and troubles find them both on the Monday, April 23 episode of "Days of Our Lives."
Chad (Billy Flynn) was visiting with Gabi (Camila Banus) at Statesville when he got the call that the mystery woman was not only in the DiMera Mansion but Stefan's (Tyler Christopher) bedroom. He wasted no time heading back on the NBC soap, and sure enough, he found her, in bed with Stefan after the two had clearly slept together. However, when he demanded the woman turn around, he received the biggest shock of his life, as the person staring back at him, albeit with a dark wig on her head, was his own wife—Abigail (Marci Miller).
Now, not fully knowing what is going on, or why Abigail was not only in bed with his brother, he will quickly find his rage taking over. In his fit of rage, he will quickly confront his brother and will begin to assault him—much to Abigail—a.k.a "Gabby's" horror. By the time he's finished, he could find himself in a predicament he never accounted for—being guilty of attempted murder.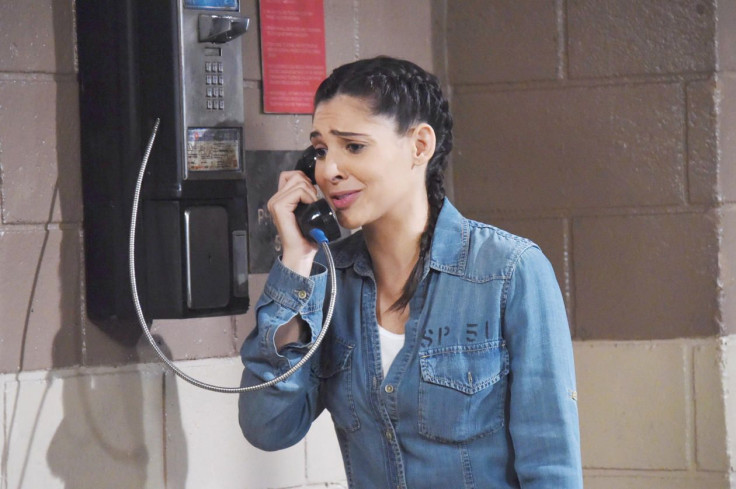 However, at the prison, things won't be going so well for Gabi either, despite her calling her lawyer, Justin (Wally Kurth) with the news that his attempt to appeal her conviction could be successful, since Chad may have found the women who it is believed actually committed the crime. Her good news—and mood—will be seriously short-lived, however, as she quickly runs into some familiar prison bullies who also made things hard on Hope (Kristian Alfonso) when she was behind bars.
If these women know who Gabi is, then they know that she not only was previously released early when she murdered Nick Fallon but that she also is Hope's former near sister-in-law. If they want revenge because she has managed to do what they haven't and because they wanted to attack Hope and never got the chance to finish her off, then they won't hesitate to make Gabi pay. After she becomes their target and is quickly beaten down, she could also find her life changed forever.
"Days of Our Lives" airs weekdays on NBC.
© Copyright IBTimes 2023. All rights reserved.