'Days Of Our Lives' Spoilers: How Will Claire Say Goodbye To Salem?
She has been at the heart of some serious trouble in town for months as she schemed to do whatever was necessary to keep her relationship safe. Now, after being hospitalized for her latest actions and wish to die, Claire will say a solemn goodbye to the life she had in Salem on the Tuesday, July 9 episode of "Days of Our Lives."
Claire (Olivia Rose Keegan) was steadily losing her grip on reality for longer than anyone realized, initially setting fire to the cabin Ciara (Victoria Konefal) was in last year as a means of trying to eliminate her so she could keep Tripp (Lucas Adams) for herself. Since then on the NBC soap, she not only worked to cover her tracks, but she set another fire as well to try and kill Tripp and Haley (Thia Megia) and schemed to get the Chinese immigrant deported and out of Salem for good, even though she had no interest in a relationship with Claire's then-boyfriend. As the truth about her actions started to leak out, Ciara and Tripp attempted to trap her into confessing, which led to one last psychotic break where she tried to murder Tripp and then attempted to burn the cabin down one more time with both herself and Ciara inside. She was stopped last minute by Ben (Robert Scott Wilson), Hope (Kristian Alfonso) and Marlena (Deidre Hall), and was later hospitalized when she expressed a desire to end her own life.
Now, after receiving some medical treatment and possibly getting a diagnosis for what has caused her to act out the way she has, the time will come for Claire to get the treatment she needs---and it will likely require her being as far away from Salem as she can get.
"Claire says farewell to Salem," spoilers reveal.
However, while she did try to kill Ciara and others, the goodbye will be bittersweet, because everyone knows something more is going on with Claire and she isn't entirely to blame for her actions. However, they will have someone else to blame, as Claire didn't act alone in her schemes to coverup her actions, and instead of getting her the help she clearly needed, Eve (Kassie DePaiva) decided to use Claire's crimes to her advantage, first to help get Jack (Matthew Ashford) elected as mayor on an anti-immigration platform, and then to use her new role as police commissioner to frame Ben for the crimes.
Now, after they say their goodbyes to Claire, Ciara and Marlena will both seek out the other woman as they try to understand how she could just sit back and do nothing when Claire needed help the most.
"Marlena and Ciara blast Eve for using Claire," spoilers state.
"Days of Our Lives" airs weekdays on NBC.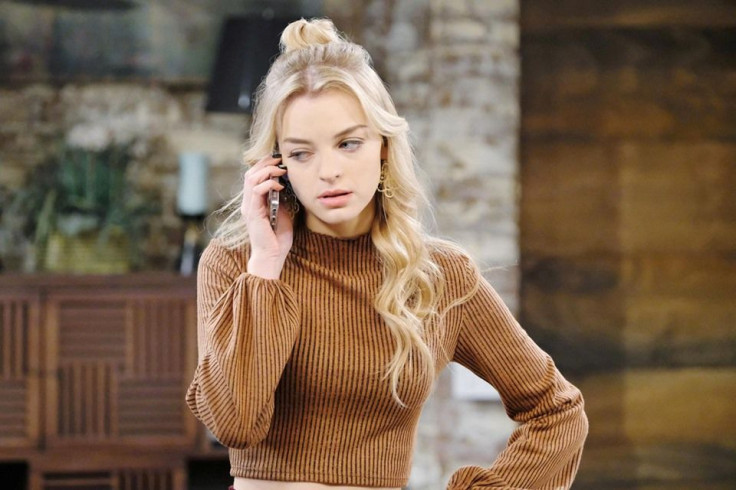 © Copyright IBTimes 2023. All rights reserved.