'Days Of Our Lives' Spoilers: Will Claire's Deception Be Revealed?
He had hoped to help Haley hideout as she sorted her immigration problems and was stunned when the cops arrived to instead arrest her and take her in. Now, Tripp will begin to question how the cops figured out where she was so quickly and will turn his suspicions towards Claire on the Wednesday, March 13 episode of "Days of Our Lives."
Haley (Thia Megia) was hiding out at the loft after Tripp (Lucas Adams) offered her a place to stay there while she was hiding out from authorities. However, though Claire (Olivia Rose Keegan) seemed okay with it on the NBC soap, she knows that her boyfriend was attracted to the nurse at one point and will do anything to make sure she has no competition when it comes to his attention. After she allegedly left to go to work and then came back, the plan to hide Haley quickly unraveled, as Jack (Matthew Ashford) showed up with the cops in tow and Haley was detained—giving Jack the photo opp he needed for his mayoral campaign.
Now, Tripp is furious that Haley was detained and wants to know how the plan was so quickly exposed. Though he may not want to believe his girlfriend had a role in it, he may find himself questioning her anyway though, as spoilers tease that he will ask her about what happened.
Naturally, Claire will defend herself, but Tripp may start to feel she's lying to him about a lot more than she's let on, especially since her alibi was that she was asked to come into work, only to be quickly sent home afterward. Not long after she came home, Haley was detained.
Of course, Claire didn't go to work at all but instead informed Eve (Kassie DePaiva) that Haley was hiding out at the loft, setting in motion the ploy to have her arrested. She won't want Tripp to find that out, but it also isn't the only secret she is keeping when it comes to doing whatever she deems necessary in order to keep her man. She already lied to Tripp about the lighter he found, which she used to set the cabin fire that almost killed Ciara (Victoria Konefal), and as she continues to spin stories, he will begin to wonder just how honest she's been.
"Days of Our Lives" airs weekdays on NBC.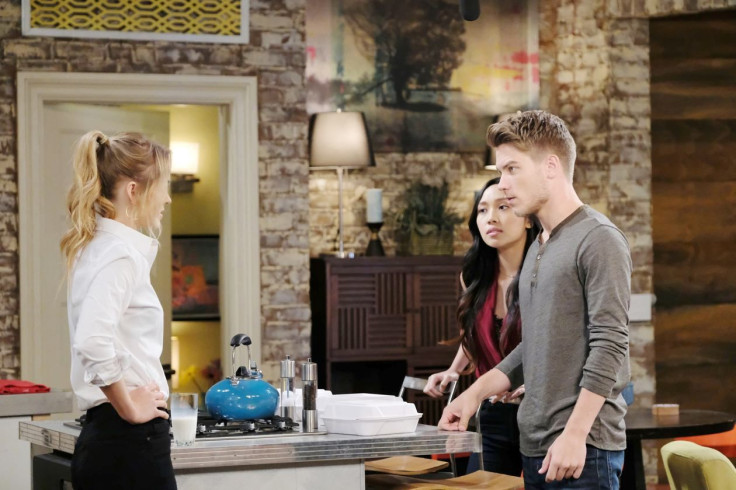 © Copyright IBTimes 2023. All rights reserved.