'Days Of Our Lives' Spoilers: Will Kate Wind Up In Danger?
She's been looking into Nicole's suspicious behaviors as a favor to Victor, but Kate's involvement could land her in some unexpected trouble on the Wednesday, June 26 episode of "Days of Our Lives."
Everyone has been suspicious about the way Nicole (Arianne Zucker) has handled her return to Salem and the news of her daughter Holly's death, since she has not only pushed Eric (Greg Vaughan) away completely, made a move towards Brady (Eric Martsolf) and wound up joining DiMera enterprises when it came to a job. Victor (John Aniston) in particular doesn't trust her, and since they're working together, Kate (Lauren Koslow) volunteered to look into the other strange claims about Nicole on the NBC soap—including Maggie's (Suzanne Rogers) belief she had seen Kristen DiMera (Stacy Haiduk) in Nicole's room, which everyone has discounted as a drunken hallucination since it occurred when she fell off the wagon.
Since then, Kate broke in and discovered the red dress Maggie had described, but "Nicole" (really Kristen in disguise) managed to get her out of the room. She also followed Xander (Paul Tefler) on his way back to the space as well and overheard him admit to killing Ted (Gilles Marini). However, her continued spying might be the very thing that gets her in trouble.
"Kate finds herself in hot water," spoilers reveal.
Since she had been in "Nicole's" room already and caught by the woman herself, Kristen will already know Kate is sniffing around, and if she figures out that Kate followed Xander, he may be forced to handle another person who Kristen feels knows too much and could pose a threat to her overall plans and goals.
However, Xander has been trying to turn over a new leaf as well, because he genuinely wants to impress Sarah (Linsey Godfrey), who may be married to Rex (Kyle Lowder), but is still someone he wants in his life. Knowing she would never be okay with him murdering people, he didn't kill Ted and is instead keeping him hidden away for the meantime and lying to Kristen about it. As a result, he could also wind up not killing Kate—but if he is forced to hide her away as well, it could mean that Kate is still in some trouble.
"Days of Our Lives" airs weekdays on NBC.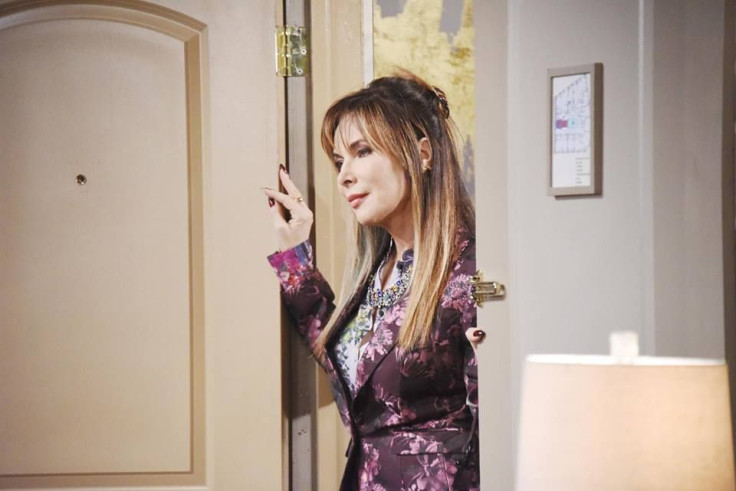 © Copyright IBTimes 2023. All rights reserved.