Deadly Snake Captured From Home After Found Slithering Under Furniture, Rescue Caught On Camera
A deadly snake was captured after it was found hiding behind furniture inside a home in Australia earlier this month.
Jack Hogan with Snake Catcher Northern Rivers 24/7 arrived at the home after receiving information that a snake was seen slithering under the aquarium.
"We received a call for a greenish Snake that was seen slithering under this Bangalow residents' Aquarium!" he wrote in a Facebook post.
However, Hogan was shocked after he stumbled upon the venomous Eastern Brown Snake while attempting to capture the reptile.
"I suspected the Snake to be a harmless Common Tree Snake as we see a lot of them in the area. After poking around with my hands and waiving my big head around for a while I stumbled upon this gorgeous Eastern Brown Snake all curled up behind the stereo!!" he wrote in the post.
Video of the rescue showed the snake catcher moving the furniture and capturing the reptile, which is seen hiding behind the stereo, using tongs. He then holds the deadly snake with his bare hands and places it inside a black bag.
The reptile was then released into the wild.
Meanwhile, Facebook users took to the comments section to appreciate the snake catcher for his "great work."
In a similar incident earlier this month, an Eastern Brown Snake, "three times bigger" than normal, was caught at an Australian aged care facility. The reptile, which was almost 6 feet in length and weighed close to 4 pounds, was caught by snake catcher Gavin Smith.
"I haven't caught a snake quite like that before … it was a whopping snake. I'd say it was three times heavier and bigger and stronger than your average eastern brown snake. From my perspective, that's one of the biggest species found around here and I doubt there will be many more that I get to work with quite like it," the snake catcher told Australian Broadcasting Corporation.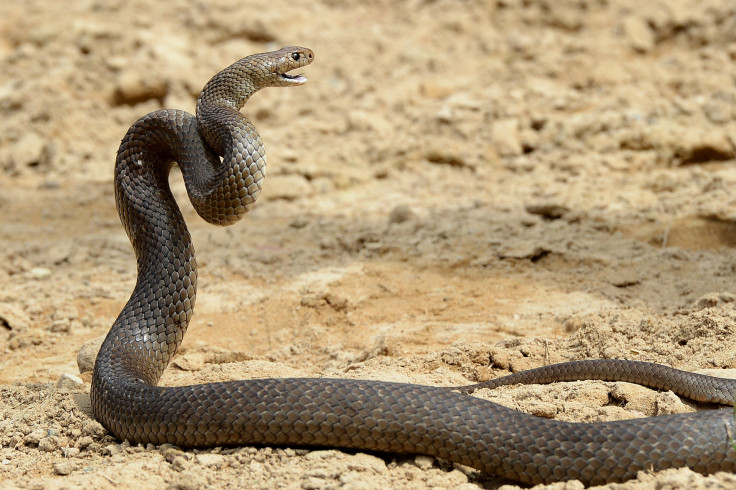 © Copyright IBTimes 2023. All rights reserved.