Demi Lovato Praises Amy Schumer's Naked Pirelli Calendar Shoot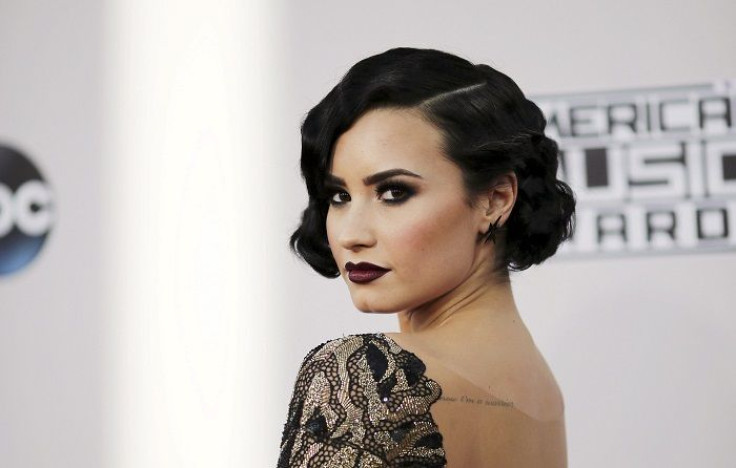 Amy Schumer has impressed a lot of people with her naked Pirelli calendar shoot. The latest is Demi Lovato who applauded the comedienne for being an inspiration to other women.
Lovato praised the "Trainwreck" actress for daring to pose nearly naked for a Pirelli calendar photo which was shot by famed photographer Annie Leibovitz, Entertainment Tonight (ET) reported. In the picture, Schumer was only wearing lacy underwear and high heels, as she sat on a stool while holding on to a coffee cup. The comedienne shared the sexy shot on social media with a message, "Beautiful, gross, strong, thin, fat, pretty, ugly, sexy, disgusting, flawless, woman."
The "Cool for the Summer" singer also shared Schumer's photo on Instagram, according to ET, and included a lengthy message complimenting the comedienne. Lovato wrote, "This is the perfect example of a #CONFIDENT woman taking a giant s--- on society's twisted views of what perfection is."
Lovato, who recently released her new album "Confident," also commented on Instagram how women like Schumer inspired her to write composed the tracks on her album. "I wrote Confident with women like her (men too) and examples like this in mind," she stated. "The attitude captured in this photo is brave, sexy and inspiring but most importantly REAL!!!! F--- yeah @amyschumer.. Women all over the world thank you for this. Especially me."
Even Leibovitz was impressed with Schumer's shot. The famed photographer stated in a press release that she was "a great admirer of comediennes" and went on to say that Schumer's shot "added some fun" to the photo shoot. "It's as if she didn't get the memo saying that she could keep her clothes on," she explained.
Apart from Schumer, the tennis athlete Serena Williams also posed nude for the Pirelli calendar, E!News reported. Williams' shot had her leaning in front of a wall with her back to the camera. The tennis star was only wearing a pair of black underwear for the shoot.
© Copyright IBTimes 2023. All rights reserved.