Democrats Midterm Elections 2018: Predictions, Breakdowns For The 3 Most Interesting Senate Races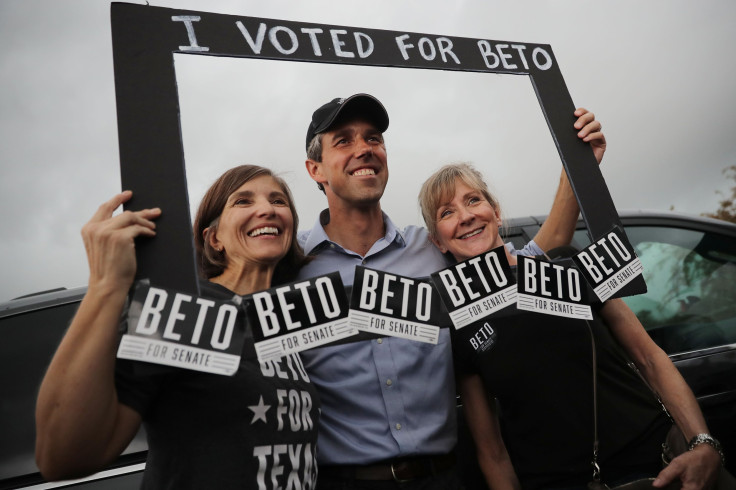 With Republicans controlling the White House, the House and the Senate and with a conservative majority in the Supreme Court, next week's midterm elections have taken on added importance for Democrats.
Democrats are hoping for a midterm bounce in the Senate, as Republicans hold a slim 51-49 majority. Of the 35 Senate races, there are 15 that are not completely safe for the incumbent and the Democrats are even in danger of losing seats.
There are some tighter-than-expected races that have caught the attention of political pundits, particularly after the stunning upset in December by Sen. Doug Jones in an Alabama special election. Democrats may feel confident they could make inroads in places they had previously given up on.
Most political observers on Nov. 6 will be very interested to see how these three red-leaning races shape out.
Texas: Sen. Ted Cruz (R) vs. Rep. Robert "Beto" O'Rourke (D)
On paper, Cruz should win handily for numerous reasons. Republicans have dominated senatorial, gubernatorial and presidential races in Texas for decades. Cruz is the incumbent and is well known given his 2016 presidential run. Every poll has had Cruz ahead of O'Rourke, with the highly reliable Quinnipiac University poll giving Cruz an 11-point advantage in late May and a CBS 11/Dixie Strategies poll this week showing Cruz ahead by 10 points.
But O'Rourke appears to be passing "the eye test." He has drawn huge crowds in GOP strongholds and in a state notorious for low voter turnout. There has been plenty of enthusiasm surrounding the El Paso congressman, who has visited all 254 counties and speaks fluent Spanish. He also boasts a massive war chest, while receiving plenty of free national media coverage. Meanwhile, there isn't much energy behind the Cruz campaign. He also has had to live with the unflattering moniker "Lyin' Ted," which was given to him by the president.
Are the polls accurate? Ones showing O'Rourke below 45 percent seem to be shorting his chances based on how Texas Democrats have fared in the past three Texas Senate races. (The best showing was little-known Rick Noriega in 2008, who received 42.8 percent against Sen. John Cornyn.)
O'Rourke has mounted a serious challenge and Cruz and the GOP leadership are certainly aware that this race needs to be taken seriously.
Meanwhile, the Democrats gained some ground in the last presidential election. While Barack Obama lost Texas by 11.77 points in 2008 and 15.79 in 2012, Hillary Clinton lost by 8.99 points in 2016. It would be a stretch to presume Cruz can beat O'Rourke by a margin similar to Trump's margin against Clinton. Low voter turnout should mean a big Cruz win, but if young people and Latinos hit the polls in big numbers it will probably mean a Texas-sized upset.
In other words, this should be a close one.
Prediction: Cruz wins by less than two points
Arizona: Rep. Martha McSally (R) vs. Rep. Kyrsten Sinema (D)
Who will be Arizona's first woman U.S. Senator? Both candidates have been in the House for less than six years and neither has garnered much national attention. Yet, this is among the more intriguing contests.
Many issues cast a long shadow over the race to fill retiring Sen. Jeff Flake's seat: the confirmation of Supreme Court Judge Brett Kavanaugh, abortion rights, the support or lack of support for President Trump and perhaps the legacy of John McCain.
Like Texas, Arizona is among the worst states in voter turnout and has long been a red-leaning state. The last time an Arizona Democrat won a Senate election was Dennis DeConcini's victory in 1988. Republicans have also won the past two gubernatorial elections.
But Arizona has inched closer to becoming a swing state in recent years and a victory for Sinema would be a major victory for Democrats as they attempt to capitalize on the 31 percent Hispanic population. Trump, who carried Arizona 49.03 percent to Clinton's 45.46 percent, currently has an approval rating of 47 percent in the state, but a disapproval rating of 51 percent.
According to Real Clear Politics' poll tracking, Sinema has a lead in 16 of 20 polls since April, along with one tie from a recent Fox News poll. In June, an NBC News/Marist poll had the 42-year-old Tucson native leading by 11 points and their latest poll had her up by 6 points.
Working against Sinema is early-voting data that shows Republicans have an edge. McSally also served in the Air Force and is considered a moderate conservative, which plays well in Arizona. After winning her House seat by just 121 votes in 2014, she easily defeated Democratic challenger Matt Heinz in 2016, 56.96 percent to 43.04 percent.
Sinema, who has outraised McSally $15.6 million to $12 million, may still have the edge because of her centrist appeal and because of Trump's 51 percent disapproval rating. FiveThirtyEight.com gives Sinema a 5-in-8 shot of winning.
Prediction: Sinema wins by two points
Tennessee: Rep. Marsha Blackburn (R) vs. Former Gov. Phil Bredesen (D)
The numbers are clearly in Blackburn's favor to replace retiring Sen. Bob Corker.
The two most recent polls have Blackburn up 9 points (Fox News poll) and 5 points (NBC News/Marist poll). Forty-three percent of the state's likely voters identify as Republicans, while only 27 percent identify as Democrats, according to the NBC News/Marist poll.
Republicans have been dominating Tennessee politics for years. Gov. Bill Haslam won his 2010 gubernatorial race by 65.03 percent to 33.08 percent and the margin was even greater in 2014: 70.31 percent to 22.84 percent. The last time a Democrat represented Tennessee in the Senate was Harlan Mathews in December 1994, when Mathews was appointed to continue Al Gore's term.
The possible blue wave may also bypass Tennessee based off Trump's popularity. Mason-Dixon polling has Trump, who carried the state by 26 points, owning a 51 percent approval rating and a 42 percent disapproval rating, with 7 percent unsure.
So, it's Blackburn by landslide, right?
Well, not so fast.
Bredesen appears to have a better shot than some might think. He's a popular former Nashville mayor and a former governor, who won all 95 counties in his 2006 victory. He's a moderate, who has been a friend of Corker's for 20 years, and comes off as a Washington outsider since he's only served in Tennessee.
And, oh yeah, Tennessee pop singer Taylor Swift broke her political silence to endorse him.
Democrats are capable of making Tennessee competitive. The last Senate vacancy came in 2006, when Corker defeated Democrat Harold Ford Jr. by a margin of just 50.7 percent to 48.0 percent.
While the most recent poll has Blackburn owning a sizable lead, the overall polling has been a seesaw affair. Real Clear Politics lists 14 polls since December and Bredesen actually led in half of them. A mid-October Vanderbilt University poll had him ahead by 1 point.
Prediction: Blackburn win by 3 points
© Copyright IBTimes 2023. All rights reserved.