Detective Faces Termination Over Facebook Post Mocking Seattle Protesters Hit By Car
KEY POINTS
Two persons were hit by a car -- one fatally -- during protests in Seattle on July 4
Detective Mike Brown posted a photo of the incident on Facebook captioned: "all lives splatter"
The King's County Sheriff's Office launched an investigation into the post and will determine his fate
A King County Sheriff's detective in Washington is facing possible termination for posting offensive comments on Facebook about a July incident in which two protesters were hit by a car -- one fatally -- in Seattle.
On July 4, Mike Brown, a veteran detective at the sheriff's office, posted a photo of a vehicle barreling into a group of people who were gathered on Stewart Street to protest against police brutality and systemic racism following the May 25 death of George Floyd. The image was reportedly captioned "All lives splatter" and "Keep your (expletive) off the road."
Brown was placed on administrative leave by the sheriff's office and an internal investigation was launched into the photo after social media users brought the post to the authorities' attention.
"On Sunday July 5th, the King County Sheriff's Office was made aware of some concerning posts made by one of our deputies on Facebook. We took immediate action and forwarded the matter to our Internal Investigations Unit," NBC News reported at that time, citing a press release from the department.
On July 4, two protesters, Summer Taylor, 24, of Seattle and Diaz Love, 32, from Bellingham were hospitalized in critical condition after being hit by a car driven by Dawit Kelete, 27. Kelete, who had driven onto the street while it was closed due to the protests, was arrested on suspicion of vehicular manslaughter. Taylor died later that day and Love sustained injuries.
The King's County Sheriff's Department said in a statement Tuesday the internal investigation was complete and, based on the evidence gathered, Undersheriff Patti Cole-Tindal recommended Brown be relieved from his position.
The department said Sheriff Mitzi Johanknecht will make the ultimate disciplinary decision about Brown's termination, adding that procedures allow the two meet before a final determination is made.
Cole-Tindall said in the post the department recovered other such offensive posts as part of the investigation. "The blow to the department's integrity was staggering. The damage to your integrity and ability to continue to serve as a law enforcement officer cannot be repaired."
A separate post on Brown's Facebook page reportedly appeared to mock the death of Lorenzo Anderson, a teen protester who was fatally shot in June by police in Washington. The post included a video of an officer shooting people, which Brown captioned as "Here they come CHOP CHAZ," referring to the Capitol Hill Autonomous Zone that was marked as a police-free area by protesters in June before Seattle Mayor Jenny Durkan ordered their evacuation.
During an interview with an investigator, Brown said he didn't realize the posts were offensive and that he posted the meme on July 4 in memory of his deceased father who would tell him to "go play in the freeway" whenever he would get mad as a child, NBC News reported, citing an investigative report. However, the investigator said Brown didn't clarify why he used the phrases "all lives splatter."
"And so that's what I was thinking, along those lines. I wasn't thinking along the lines of making light of it or making light of the movement," Brown said.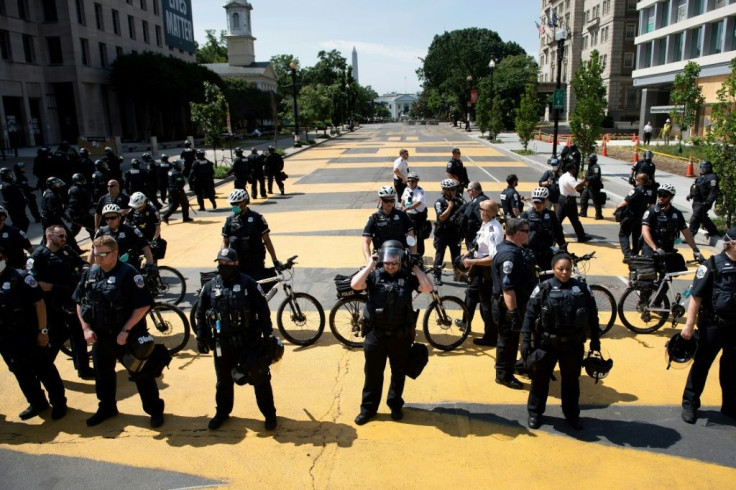 © Copyright IBTimes 2023. All rights reserved.