'The Deuce' Season 1, Episode 2 Sneak Peek: Vincent Gets Unusual Compliment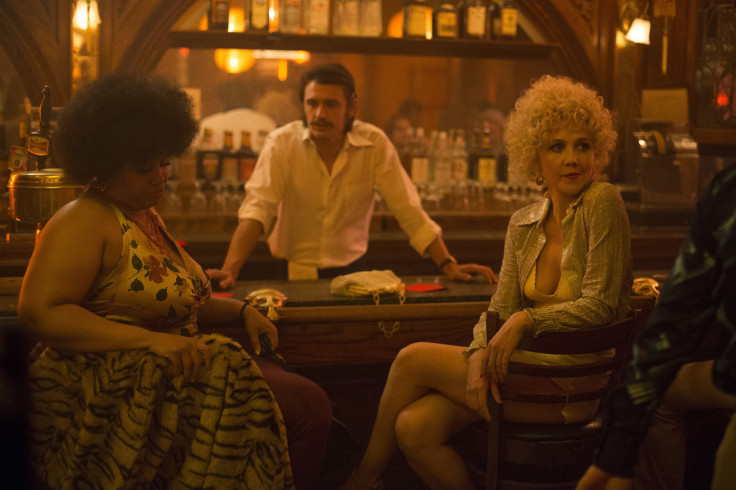 Is Vincent becoming a pimp without knowing it?
In a sneak peek from Season 1, episode 2 of HBO's "The Deuce," Candy (Maggie Gyllenhaal) and Thunderthighs (Pernell Walker) drop by the Manhattan joint where Vincent (James Franco) works.
"This place is busy," Thunderthighs comments as she and Candy enters the establishment.
"It's still the office trade. That'll change later on," replies Vincent who now manages the bar.
Thunderthighs tells Vincent that's she's having a hard time looking for clients that night. "The 1-4 got the wagon out, near messing my night," shares Thunderthighs.
"Sorry to hear it. First one's on me," says Vincent, before reminding Thunderthighs and Candy that they need to be "discreet" if they plan of making trade inside the joint. "I don't mind your business," Vincent says, "But you gotta be discreet."
As Vincent prepares their order, Thunderthighs and Candy notice one of the bar's waitresses receiving a lot of tips from the customers.
"Candy, what do discreet mean?" asks Thunderthighs as she continues to look at the leotard-wearing waitress.
"It means, don't be flashin' [private parts or] making trade in here," Candy says.
When Vincent returns with their order, Thunderthighs tells him that he "got some pimp" in him.
Vincent is confused by what Thunderthighs has just told him until Candy assures him that "it's a compliment."
In the series premiere, Vincent made the establishment's waitresses wear leotards in an attempt to draw more customers to the struggling bar. Surprisingly, his idea worked. Although the waitresses initially thought that Vincent's idea was ridiculous, all of them have been earning more tips since they started wearing leotards at work.
Speaking of pimps, as revealed in the synopsis for this week's Season 1, episode 2, C.C. (Gary Carr) shows Lori (Emily Meade) the advantages of having a pimp.
In Season 1, episode 1, Lori found out that Candy doesn't have a pimp. "You gotta work a little harder. You gotta be more careful," Candy told Lori when asked what it's like to work without a pimp. "Sometimes a guy will burn you for some cash or a player will press you for a moment or two, but it works for me."
Lori, on the other hand, told Candy that she needs pimping because she tends to get lazy at times. So why does C.C. decide to show Lori the advantages of having a pimp when she already knows exactly why she needs one? Could it be because Lori finds out what C.C. did to Ashley (Jamie Neumann) at the end of last episode and now she wants out?
"The Deuce" Season 1, episode 2, titled "Show and Prove," airs on Sunday, Sept. 17 at 9 p.m. EDT on HBO.
© Copyright IBTimes 2023. All rights reserved.