'Devious Maids' Season 4 Spoilers: Episode 9 Synopsis Released; What Will Happen In 'Much Ado About Buffing'?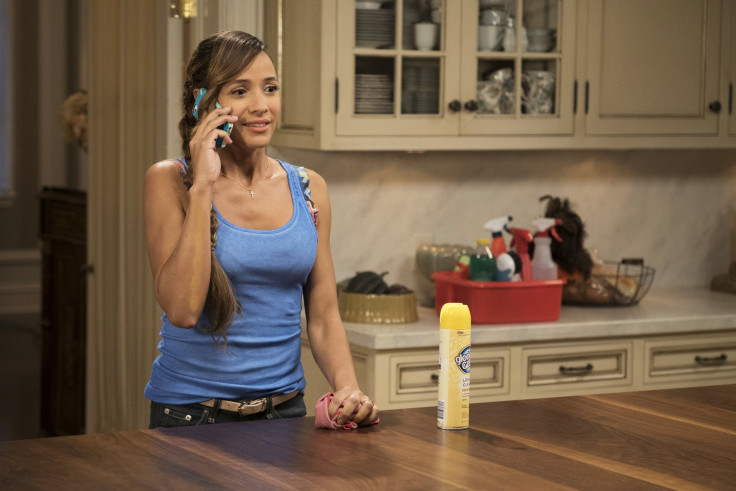 "Hang on to your feather duster, because things are about to get crazy." That's the advice Adrian gives Carmen in a promo video for the upcoming installment of "Devious Maids."
And he's right — the chaos will get kicked up a notch as Season 4 of the Lifetime series winds down. With only two episodes left, fans can expect their favorite maids to sweep up even more drama as Rosie (Dania Ramirez) gets closer to solving Peri's (Mariana Klaveno) murder case.
Spence (Grant Show), who is currently in jail after admitting to killing his ex-wife, doesn't want his current partner digging any deeper into the murder mystery. But Rosie refuses to stop searching for the real killer. "I will never give up on you no matter what!" she tells him, revealing to audiences that Rosie will step up her detective game.
In episode 8, Rosie learned from Shannon (Katherine LaNasa) that Peri didn't have an affair while she was married to Spence … she was raped. This resulted in Tucker's (Carter Birchwell) birth. According to Shannon, Peri refused to give up her rapist's name but did divulge he was in the movie industry. This led viewers to question if Peter (James Denton) could be Tucker's birth father. We became more suspicious of Marisol's (Ana Ortiz) movie exec beau when he angrily tore up his office after hearing his girlfriend was sneaking around behind his back. Guess Peter has a temper. But does that make him a killer?
According to the synopsis for episode 9, Marisol will learn a secret about Genevieve's (Susan Lucci) past that "may provide a clue to finding Peri's killer." Could that secret involve Genevieve's ex-husband Peter?
As of right now, all signs are pointing to the movie executive as the murderer. But Peter isn't the only one with a dark side. In episode 8, Dani (Sol Rodriguez) lied to Carmen (Roselyn Sanchez) about her birth father being dead, resulting in Carmen giving her daughter a sentimental ring that belonged to her first love/Dani's father. The summary teases that Dani will continue to manipulate Carmen in episode 9.
Lastly, Zoila (Judy Reyes) will return to cleaning floors when her boss makes her way back to her giant mansion. But will the return of Zoila's employer oust her as a maid? It appears that Zoila will get crafty when Kyle (Ryan McPartlin) sees her scrubbing away, turning her work outfit into a foreplay ensemble.
"Devious Maids" airs Mondays at 9 p.m. EDT on Lifetime.
© Copyright IBTimes 2023. All rights reserved.
FOLLOW MORE IBT NEWS ON THE BELOW CHANNELS