'Devious Maids' Season 4 Spoilers: Who Admitted To Killing Peri In Episode 2? [RECAP]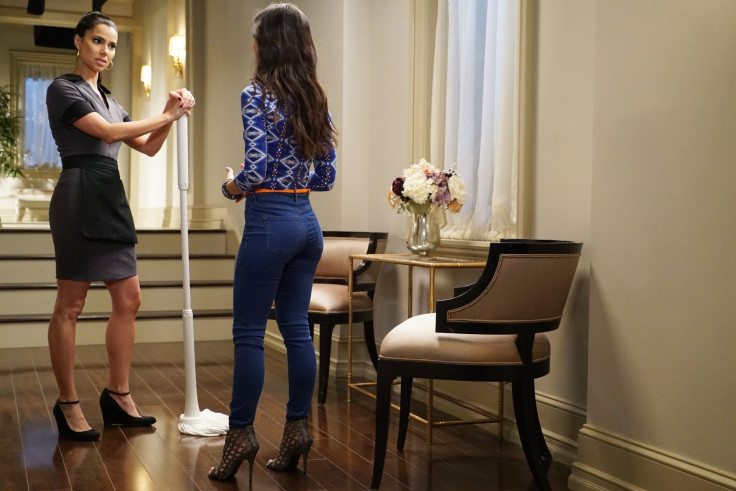 Spence has made a bit of a mess — and it looks like Rosie will have to clean it up.
In episode 2 of "Devious Maids," Rosie (Dania Ramirez) learns about the deadly drama that went down in the Season 4 premiere: Peri (Mariana Klaveno) has been killed — and the blame is being placed on Spence (Grant Show).
Rosie is convinced her sweet and gentle husband, who regained his memory in episode 1 of the hit Lifetime series, isn't capable of hurting a fly. But according to the tabloids, there's photographic evidence that Spence was angry with Peri. During their party, which took place the night of the murder, Spence regained his memory and figured out that Peri had tried to keep him for remembering his love for Rosie. He then put his hands on her — an act that was caught by the paparazzi.
The next morning Spence woke up with the body of his dead ex-wife lying next to him. But because of his heavy drinking the night before, Spence isn't able to recall how Peri died or who killed her. But the police have a suspect in mind when they find Spence's fingerprints on the murder weapon.
During Rosie's coffee date with her friends, she promotes Spence's innocence. Marisol then reveals that if Spence didn't kill Peri then someone who must have "really hated her" shoved her trophy into her neck.
"So many people hated Peri. I don't even know where to start," Rosie says. But Marisol has an idea — Rosie doesn't need to track down the killer, she just has to track down her husband's whereabouts the night Peri was killed. That will give Spence an alibi.
After Rosie sips her coffee, she begins her bar crawl in the hope of stumbling into one that Spence made an appearance in the night before. She eventually strikes gold when she wanders into a strip joint that Spence visited the night before. A dancer, ironically wearing a maid outfit, confirms his alibi. Rosie goes to the police with this information, but they reveal to her that Spence has already admitted to the crime. And it looks like his confession was inspired by Spence's sponsor Ben (Carlos Ponce).
Cinnamon's job isn't to talk, so Rosie had to find a loophole to get info about Spence #DeviousMaids pic.twitter.com/TEcm9UsuO0

— Whipclip (@whipclip) June 14, 2016
But Ben isn't the only one with a secret. It was revealed in episode 2 that Zoila's (Judy Reyes) hot, next-door neighbor isn't exactly living in a bachelor pad. Zoila, who is pretending to be a wealthy designer, learns that Kyle (Brian Hallisay) is living with his mother.
At first, she's taken aback by the idea, but after a dinner date with the mother/son duo, she becomes empathetic to their story. According to Kyle's mother, she and her son are only roomies because of his kind heart. Kyle's mom explained she had a series of miscarriages, that is until her "miracle baby" came along. She then compared the birth of Kyle to a life full of sunshine.
"Let's just say I understand," Zoila, who recently lost her own child, responds with tears in her eyes.
By the end of the date, Zoila admits to Kyle that she understands why he's so close with his mother, prompting him to kiss her. And although Kyle's mom also shares feelings of respect for Zoila, she refused to give her son her blessing to date her.
"I like her too — a lot — but not for you. I have other plans for you Kyle," she says, teasing that Carmen (Roselyn Sanchez) may have been onto something when she described Kyle as a "serial killer" with mommy issues.
Speaking of Carmen, she had her own issues to deal with in episode 2 when her secret daughter Daniela (Sol Rodriguez) revealed she was making Los Angeles her home permanently. This freaks Carmen out a little. Yes, she can handle hanging out with the child she gave up for adoption for a week ... but for life? That's just too much for Carmen to bare. So, she urges Daniela to leave — but before her daughter booked the next flight home, Daniela witnessed something life-changing: Adrian (Tom Irwin) can walk.
Adrian has been faking his paralysis so that Evelyn (Rebecca Wisocky) will stick around. Adrian knows that Evelyn is putting off the divorce out of guilt, which he uses to his advantage. But his plan becomes compromised when Daniela catches him out of his wheel chair and reaching for the liquor. He strikes a plan with Carmen's daughter, giving the aspiring singer a job so that she can afford the lifestyle of a Hollywood hopeful.
Daniela then gets a better offer from Evelyn — one that doesn't require her cleaning toilets. The favor Evelyn asks requires her newest employee to seduce her husband on camera. That way Evelyn could divorce her husband without feeling guilty and Daniela would get a one-on-one with a music producer.
Daniela does the deed but Adrian doesn't take the bait. Instead he gets up abruptly when Daniela straddles him, proving his loyalty to Evelyn but showcasing his fraudulent diagnosis. After watching the tape, Evelyn calls her husband out in a public restaurant before attempting to pull him from his wheelchair. But Adrian's legs continue to play dead as he's dragged to the floor. The act makes Evelyn look like a monster but gives her the freedom to finally leave her husband for good.
Lastly, Marisol (Ana Ortiz) finds herself in a bit of a pickle during episode 2 when she learns she's locking lips with Genevieve's (Susan Lucci) ex-husband Peter (James Denton). Genevieve politely asks Marisol to stop seeing her former spouse, but the author refuses.
"This means wars," Genevieve warns her friend-turned-foe.
"Devious Maids" airs Mondays at 9 p.m. EDT on Lifetime.
© Copyright IBTimes 2023. All rights reserved.