Dharun Ravi Sentence: Former Rutgers Student Gets 30 Days In Jail, Should He Have Received A Longer Sentence?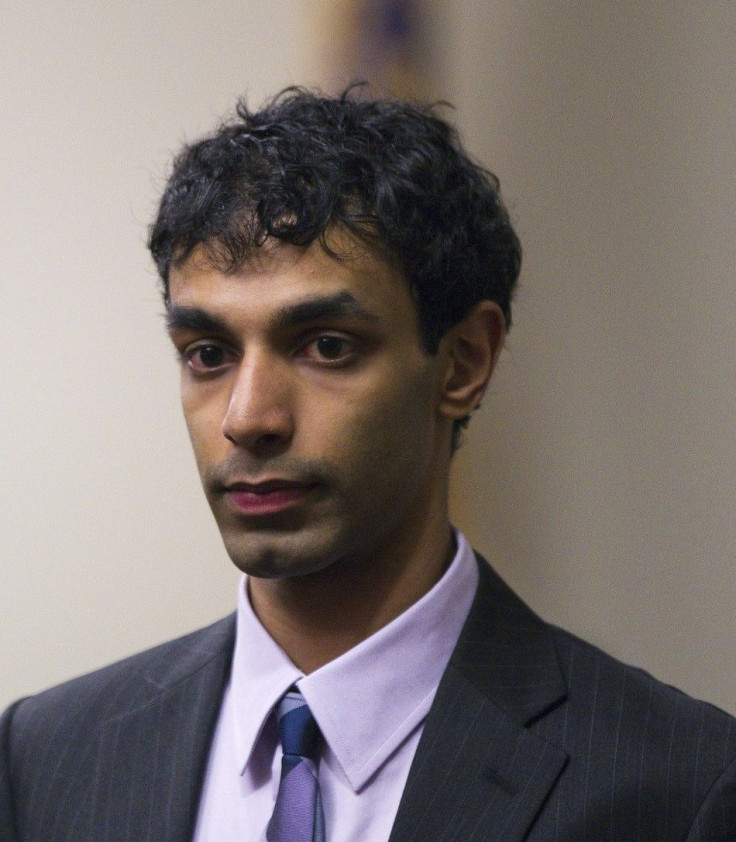 Dharun Ravi, a former Rutgers student, has been sentenced to 30 days in jail after being convicted of criminal charges including invasion of privacy and tampering with evidence.
The sentencing comes two months after Ravi was convicted of crimes that allegedly provoked the suicide of his Rutgers University roommate Tyler Clementi.
Just days after the infamous webcam video incident, Clementi committed suicide by jumping off of the George Washington Bridge.
I do not believe he hated Tyler Clementi, Judge Glenn Berman told the court. He had no reason to, but I do believe he acted out of colossal insensitivity.
Ravi, who will now have to report to Middlesex Adult Correctional Center on May 31 at 9 a.m. for his probationary sentence, received the punishment, but in return offered no apology for his actions.
I heard this jury say, 'guilty' 288 times--24 questions, 12 jurors. That's the multiplication, Berman said. I haven't heard you apologize once.
Before the defendants sentencing, Ravi's mother gave up an emotional plea for leniency during which she and her son both broke into tears. At the end of her plea, Ravi's mother threw herself on her son, sobbing and hugging him.
Ravi, 20, is convicted of a hate crime for using a webcam to spy on Clementi during a sexual liaison with a man identified only as MB and announcing what he saw on Twitter.
He did it in a cold calculating manner and then he tried to cover it up, Tyler Clementi's father Joseph said.
As the judge did before, Clementi's father and mother accused Ravi of having any lack of remorse.
He never even paused to acknowledge that Tyler was in the room, Jane Clementi said. He never stopped what he was doing, no greeting, no smile, no recognition, no nothing.
In recent days, several prominent gay activists have made public pleas for Ravi to not be sent to prison - a fact that was recognized by Judge Glenn Berman at the beginning of the proceedings.
Some petitions were even sent to President Barack Obama, but according to the Judge Berman, the president has no ability to pardon someone for a state crime.
As he received 30 days of confinement, Ravi faced a maximum sentence of up to 10 years in prison.
With that kind of range, activists and Clementi supports are likely to argue that Ravi deserved more.
Clementi's brother, James, told Judge Glenn Berman, I watched as Dharun slept through court as if it was not worth paying attention. I watched Dharun and his lawyers laugh as if it were a private joke.
A lawyer for MB read a statement asking for prison time for Ravi because, he said, Ravi has not accepted responsibility for his actions.
He must serve some type of confinement... To this day he appears to blame me for his conduct, citing Ravi's claim that he spied on his roommate because he feared MB would steal his iPad.
Additonally, Ravi was ordered to perform 300 hours of community service and will be on probation for three years.
He also received orders to attend counseling program on cyberbullying and alternative lifestyles and a $10,000 assessment that will go to victims of bias crimes.
But while there was no conviction that officially tied Ravi to the death of Tyler Clementi, he was convicted on all 15 counts he faced by a Middlesex County jury in March.
Those charges included invasion of privacy, attempted invasion of privacy, bias intimidation, tampering with physical evidence, hindering apprehension or prosecution, witness tampering and tampering with physical evidence.
There has yet to be word on whether Ravi will be deported as a punishment for his crimes.
© Copyright IBTimes 2023. All rights reserved.
FOLLOW MORE IBT NEWS ON THE BELOW CHANNELS