Dharun Ravi Apologizes To Tyler Clemeniti's Family: 'I Didn't Act Out Of Hate'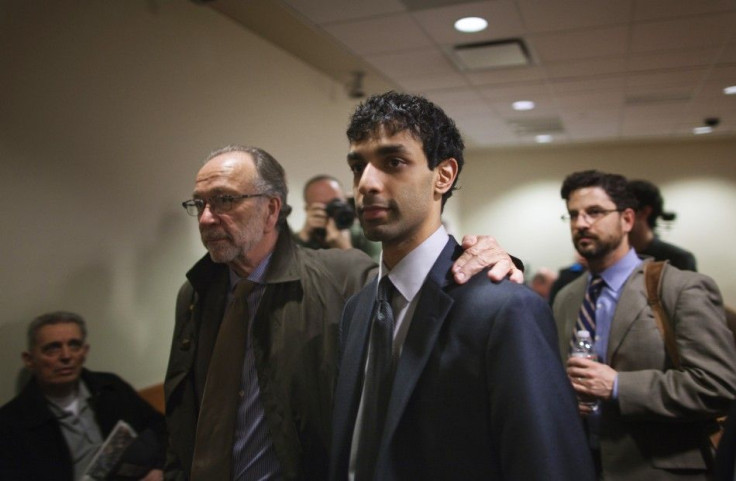 Dharun Ravi was convicted of several charges last week, including a hate crime, for spying on his college roommate Tyler Clementi, who jumped from the George Washington Bridge. Now, Ravi has apologized for everything happened.
I'm not the same person I was two years ago, said Ravi in an interview with The Star-Ledger. I don't even recognize the person I was two years ago.
While he admitted he was immature and insensitive to his roommate, Ravi claims that he wasn't biased.
I didn't act out of hate and I wasn't uncomfortable with Tyler being gay, he said.
On September 19, 2010, Ravi used a webcam to view Clementi's encounter with a 30-year-old man, known only as M.B. Ravi took to Twitter to announce what he saw.
I saw him making out with a dude. Yay, said Ravi over his Twitter account. Two days later, Ravi was informed that Clementi was having the same guest over. Ravi told his friends to watch a live webcast of his room over Twitter. When Clementi discovered the Twitter, he jumped to his death.
A jury convicted Ravi of all 15 charges against him, including bias intimidation. He now faces up to 10 years in jail. Ravi was offered a plea deal before the trial, but he rejected it. The deal would have kept him out of prison. However, he would have had to admit to the bias intimidation charge.
I'm never going to regret not taking the plea, Ravi said, according to The Star-Ledger. If I took the plea, I would have had to testify that I did what I did to intimidate Tyler and that would be a lie. I won't ever get up there and tell the world I hated Tyler because he was gay, or tell the world I was trying to hurt or intimidate him because it's not true.
Growing up, Ravi said he was surrounded by diversity. He went to school with people from a variety of different backgrounds, reported The Star-Ledger.
There were a lot of Indians, Chinese, Korean kids, some Hispanic, white kids, he said. It's hard to form hate when you grow up around so many different kinds of kids.
Ravi said he had never had any issue with the gay community and made some gays friends while in Rutgers.
One of my friends had a gay roommate and I met a gay kid I liked a lot at orientation, said Ravi. They were cool. It was no big deal. Now there's a verdict out there that says I hate gays. The jury has decided they know what is going on in my mind; they can tell you what you think.
During the trial, Steven Altman, Ravi's attorney, maintained that Ravi was just a kid who made a mistake.
If it was a girl who came to the room and she looked as strange as M.B., I would have done the same thing, he said.
Ravi said he sent the tweets to his friend to watch the webcam as a joke. He said he realizes that he never considered his late roommates feelings.
I never really thought about what it would mean to Tyler, he said. I know that's wrong, but that's the truth.
After the incident, Ravi said he felt remorse and moved the camera away from Clementi's side of the dorm room.
I knew it was stupid so I went in and pointed the camera away from the bed, said Ravi according to The Star-Ledger.
Then, when he heard Clementi found out about the prank, he wanted to apologize because Clementi had asked to switch rooms. Ravi said he had hoped to talks things out.
One of the most frustrating parts is that he never got my apology, Ravi said. I texted an apology and when he didn't answer, I e-mailed him. I told him I didn't want him to feel pressure to have to move and that we could work things out.
The text message was shown in court, said The Star-Ledger.
But, of course, Ravi's greatest remorse came when he discovered Clementi had jumped off the George Washington Bridge.
I'm very sorry about Tyler, he said. I have parents and a little brother, and I can only try to imagine how they feel. But I want the Clementis to know I had no problem with their son. I didn't hate Tyler and I knew he was okay with me. I wanted to talk to his parents, but I was afraid. I didn't know what to say.
© Copyright IBTimes 2023. All rights reserved.