DHS, Immigration Fight: Governors Tell Congress To Fund Homeland Security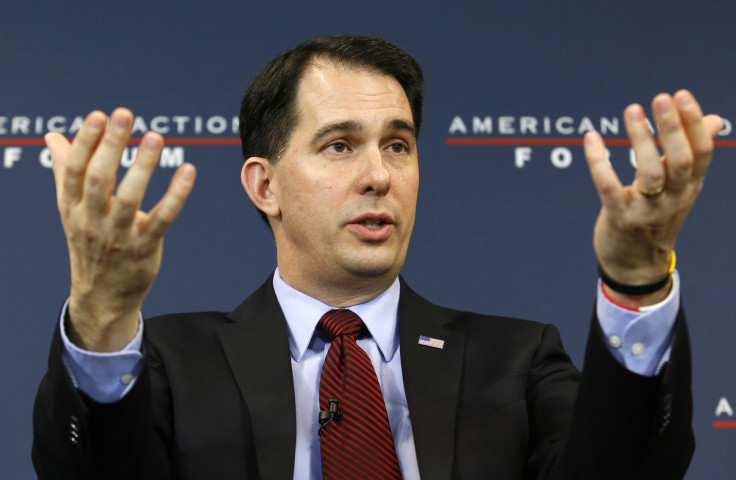 WASHINGTON -- The nation's governors might not agree on much, but many found some common ground: Congress needs to fund the Department of Homeland Security. Even those Republicans who are fighting President Barack Obama's immigration executive orders in court think funding for DHS shouldn't be allowed to lapse at the end of the week.
Many of the nation's governors met in Washington over the weekend to discuss issues facing the nation and the potential shutdown of DHS was a repeated theme. But unlike Republicans on Capitol Hill, most of the GOP governors were reading from a different set of talking points.
Republican governors were less aggressive than some of their counterparts in Congress in arguing DHS funding must be tied to a reversal of Obama's executive orders that provided legal status to more than 5 million undocumented immigrants. For them, the fight against Obama is playing out in the courts. And the lack of DHS funding could have a real effect on their states.
Wisconsin Gov. Scott Walker is one of a group of governors who filed the lawsuit against Obama to stop the implementation of his executive orders and was pleased that the court issued an injunction to block the president. "We got a big win in the court," Walker said. "We need to be aggressive pushing back on it, but I also think Homeland Security is something we don't back away from."
Even those Republicans who think the president should acquiesce on immigration were less bullish than other members of their party.
"We want it to be funded but what is the administration putting on the table to resolve this issue on policy?" Arkansas Gov. Asa Hutchinson told DHS Secretary Jeh Johnson. He implored some type of compromise. "It appears to me that this is ripe for the administration giving," Hutchinson said. "I think the administration should sit down with Congress and say lets work this thing out. And I was very disappointed that there wasn't any compromise that was in the offing from the administration."
Nevada Republican Gov. Brian Sandoval said his state is preparing for the possibility that DHS funding expires at the end of the week.
"I'm concerned about it and in Nevada I serve as the chairman of our Homeland Security Commission and we are already planning either way, whether it continues or not, but we're going to keep a close eye on that," he said. "The safety of our citizens is a primary concern."
Mississippi Republican Gov. Phil Bryant said the discussion has become political, with Democrats criticizing a tactic that when they used it wasn't seen as a negative.
"I believe our delegation is going to work hard to make sure DHS is funded, I believe we certainly need to talk with them, which I have reached out to our delegation," Bryant said. "But I want to make sure this isn't a political position that people are taking, that they are truly concerned about funding, which all governors are about DHS."
Democrats, who were the staunchest supporters of funding the agency with no strings attached, said many Republican governors didn't realize the effect a shutdown DHS would have on their states. Primarily, DHS sends millions of dollars in grant money to state and city governments. A shutdown or even funding the agency through another short-term continuing resolution could significantly slow the flow of that money down.
Virginia Gov. Terry McAuliffe would likely see some of the biggest impacts if the agency shuts down. Many of DHS's operations are based in northern Virginia and many of the likely furloughed employees reside there. McAuliffe said he led a closed-door discussion between the governors about the cuts and many weren't aware of the grant changes.
"That is an issue that unites all of us. Every governor will be impacted next Friday if they stop the DHS funding," McAuliffe said. "At the end of the day, everybody agreed, it was a good health discussion."
McAuliffe also served as chairman of a panel discussion attended by about a dozen governors, which featured DHS Secretary Johnson. "They're sending out money every single day. These are grants that are in the pipeline," McAuliffe said. "We are counting on that, we commit resources at the state level for the match. So for us to go through the process for what we have done in Virginia really is impactful to our economy."
But for many Democratic governors, their criticism wasn't reserved for Republicans. They bemoaned the partisan entrenchment from both political parties.
Colorado Gov. John Hickenlooper, a Democrat, voiced unhappiness with all sides stalling on finding a solution to the funding problems.
"There is not a governor here who doesn't want them to figure this out," he said at a press conference on Saturday. "As a governor, I think it's very frustrating when we see this kind of partisan politics play out. Instead of sitting down and rolling up their sleeves and figuring out what the right compromise is and recognizing that not every side is going to get what they want, which is how this system works, there is this kind of -- both sides pushing each other to this brinkmanship and it is going to affect our states, it's going to affect every state in our country. And again, I'm not blaming one party or the other, but they need to figure it out."
Kentucky Democrat Gov. Steve Beshear said the political game being played with the funding could result in a "disaster" if the agency isn't funded by the end of the week.
"They need to get over this game playing up here, and that's all that is," Beshear said. "We all know we ought to pass a budget for Homeland Security. Pass it. And then go to the courts like they've done and lets get that settled on immigration. But for God's sake, don't harm the American people with all these games going on."
© Copyright IBTimes 2023. All rights reserved.