Did Casey Anthony call her father 'son of a bitch' in court?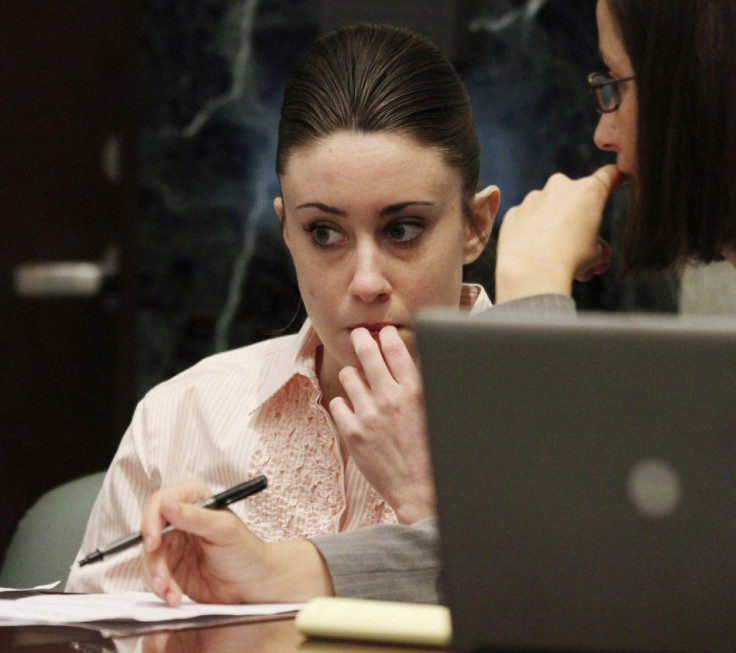 Casey Anthony, who is on trial on charges of killing her own two-year-old brutally and letting her body decompose in the car for weeks, laughed and sent flirtatious glances while attending the trial on Thursday.
And, according to CNN talk show host Nancy Grace, she even mouthed 'son of a bitch' to her father George, who testified on Wednesday.
Tot mom called her own father 'son of a bitch' during court. Look at her lips! said Grace, according to WTSP.com. The report says Grace called in a body language expert to read Casey's lips and study her steely demeanor.
When looking at the video, Casey's mouth movements looked as though they may resemble the phrase, the report says.
Casey Anthony's father took the witness stand on Wednesday and narrated how he tried to kill himself after he realized that he 'failed Caylee'. George Anthony also had an angry exchange with Casey Anthony's lawyer Jose Baez when he made comments that suggested that George could be suspected for the death of two-year-old Caylee.
Casey's defense team has accused George, as well as her brother Lee, of sexually assaulting her as a child, a charge both have denied in court. Both father and brother were also made to undergo DNA tests to confirm if they fathered Caylee.
George said it was the hardest thing in life to accept that he did not have a grand-daughter. I just decided that was the time for me to get away from all this, to spend time with Caylee..I didn't want to be in this world anymore,' he said recollecting how, one month after Caylee's remains were found, he attempted to commit suicide.
Having decided to take his life, George went to a motel in Daytona Beach and consumed pills and alcohol before writing a suicide note and bidding goodbye to family and friends.
I still have those feelings every once in a while, even today ... If it wouldn't have been for law enforcement, I wouldn't be here today, he said.
In court on Wednesday, his daughter's defense team repeatedly tried to cast an eye of suspicion at George. While trying to establish that the Anthony home was a dysfunctional one, the defense has accused George of sexually molesting his daughter.
The report said Casey appeared quite flirty, in court on Thursday. Witnesses said Casey beckoned to one of her attorneys with raised eyebrows, a curled finger and a slight, sly grin. Then she was seen placing her hands over her mouth as she laughed, again her eyebrows were raised, the report said.
Is this the facial expression of a young mother on trial for first degree murder, accused of suffocating her little girl with duct tape, after allegedly disabling the child with Chloroform?
25-year-old Casey Anthony is accused of murdering her daughter by applying chloroform first and sealing her mouth with duct tapes. Caylee's death took place in June 2008.
Casey Anthony denies the charges that she murdered her toddler daughter. She contends that Caylee drowned accidentally in the swimming pool. If she is found guilty of first degree murder, Casey Anthony could be sentenced to death by lethal injection.
The prosecution says Casey killed the little girl by suffocation and kept the dead body in the boot of her for several days. She then dumped the body in the woods near her parents' home.
The defense argues that Caylee died in the pool accident, but her mother lied about the death because she was 'conditioned to lie'. They argue that the Anthony home was dysfunctional and that her father and brother had been sexually abusing her for years when she was a child.
Must Read: Casey Anthony Trial Day 35: Caylee was killed or died in an accident – jury deliberation begins (PHOTOS)
Casey Anthony Trial Day 35: Defense attorneys confident jury's verdict will be in Casey's favor (PHOTOS)
© Copyright IBTimes 2023. All rights reserved.