Did Elvis Presley Kill Himself? King Cause Of Death Was Intentional Drug Overdose, Stepbrother Claims In New Book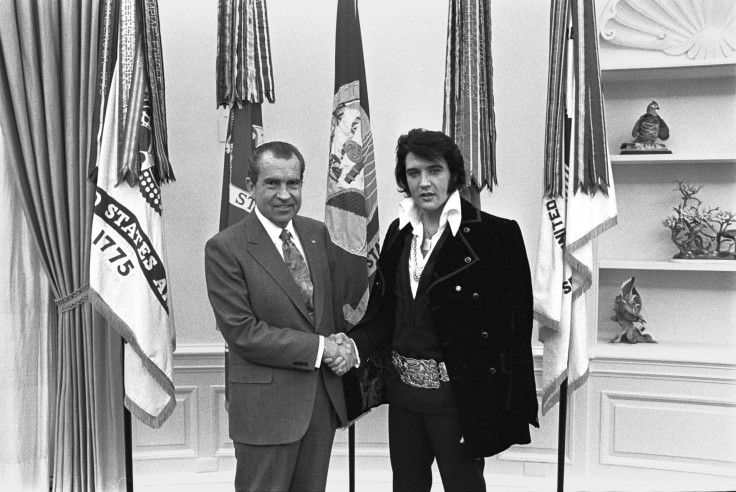 Elvis Presley intentionally overdosed on drugs but his family covered it up to preserve his legacy, according to a new tell-all book that describes the King of Rock 'n' Roll as a frail drug addict who needed help going to the bathroom and eating, the New York Daily News reported.
Presley died at home in Memphis, Tennessee, on Aug. 16, 1977. His death was initially attributed to a heart attack but was later changed to an accidental drug overdose. A toxicology report found 14 drugs in his system.
Presley was at one point the top-selling solo artist in U.S. history, with 134.5 million album sales, according to the Recording Industry Association of America. His many hits include "Hound Dog" and "Love Me Tender."
David Stanley, Presley's stepbrother, has long insisted the rock legend committed suicide. In "My Brother Elvis: The Final Years," a tell-all expected to hit shelves in August, Stanley describes his life at Graceland, Presley's Memphis home and recording studio.
"I felt it was my responsibility to write a book about these realities of Elvis beyond the glitz, glamor and fun. He was human, and his very human frailties and vulnerabilities cost him his life. If addiction could happen to Elvis, it can happen to anyone," Stanley said.
Stanley said family members hid pills and syringes that were found near Presley's body before police got to the home. Stanley joined the Presley family in 1960 when his mother married Presley's father, Vernon Presley. Stanley was 4 years old at the time, and Presley was 24.
Stanley went on to eventually work for Presley. He said he last saw his stepbrother two days before his death. Presley told him when they next met up, he would be "on a higher plane." Stanley claims Presley took a large number of drugs "on purpose."
Before his death, Presley was on so many prescription pills he needed help going to the bathroom, Stanley claimed. Presley would sometimes fall asleep at the dinner table, requiring others to "reach inside his mouth and remove the food."
Vernon Presley had the singer's autopsy and death certificate sealed until 2027, 50 years after his death.
© Copyright IBTimes 2023. All rights reserved.