Did Hillary Clinton Fail The Bar Exam? The Truth Behind Donald Trump's Latest Criticism Of Democrat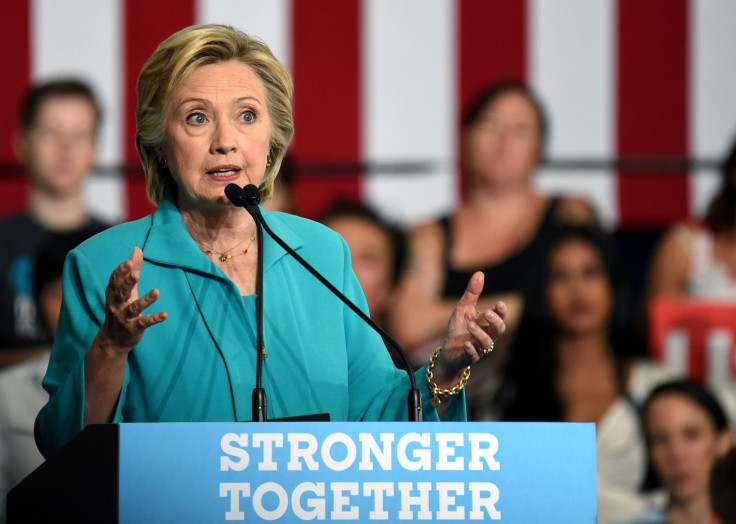 Donald Trump is starting Monday off strong. The Republican presidential candidate took to Twitter to attack Democratic nominee Hillary Clinton. "Does anyone know that Crooked Hillary, who tried so hard, was unable to pass the bar exams in Washington, D.C.?" he wrote. "She was forced to go elsewhere."
Trump, who has gotten a reputation for his not-entirely-accurate claims, is correct on this one. Politifact, the Pulitzer Prize-winning fact-check website, and Snopes, famous for busting chain emails, have both previously rated the statement that Clinton "flunked the D.C. bar exam" as true.
Clinton, after graduating from Yale University, took the bar exam in Washington, D.C. and Arkansas in 1973, according to Carl Bernstein, the former Watergate reporter who wrote the 2007 book "A Woman in Charge: The Life of Hillary Rodham Clinton." She'd been torn between pursuing her ambitions and staying with her then-boyfriend, Bill Clinton, who was making a career in the Natural State.
The decision was more or less made for her. "On November 3, the District of Columbia Bar association notified Hillary that she had failed the bar exam," Bernstein wrote. "For the first time in her life she had flamed out — spectacularly, given the expectations of others for her, and even more so her own."
Bernstein elaborated on the significance of her failure in a CNN piece earlier this year. "She was heading to a big Washington law firm and wanted Bill to join her in the capital," he said. "She took the bar. She failed it. And then she decided, 'Okay. I'll go to Arkansas.'"
Clinton herself confirmed the exam outcome in her 2003 book "Living History," according to Snopes. "When I learned that I passed in Arkansas but failed in D.C., I thought that maybe my test scores were telling me something," she wrote.
The couple married in 1975, and the rest is history.
In any case, she's not alone. Other well-known people who failed the bar exam at least once include current First Lady Michelle Obama, John F. Kennedy, Jr. and former California Gov. Pete Wilson, according to BuzzFeed.
© Copyright IBTimes 2023. All rights reserved.
FOLLOW MORE IBT NEWS ON THE BELOW CHANNELS