Did White House Aide Ask Kristi Noem To Add Trump's Face To Mount Rushmore?
A White House aide reportedly reached out to South Dakota Governor Kristi Noem to ask about potentially adding President Trump's image to Mount Rushmore.
According to a 2018 interview, Noem claimed Trump took a serious interest in having his image added to the famous sculpture that currently features the 60-foot-tall faces of Presidents George Washington, Thomas Jefferson, Abraham Lincoln, and Theodore Roosevelt.
At the time of the interview, Noem detailed the moment, which took place in the Oval Office in 2017. "He said, 'Kristi, come on over here. Shake my hand.' I shook his hand, and I said, 'Mr. President, you should come to South Dakota sometime. We have Mount Rushmore,' she explained.
"And he goes, 'Do you know it's my dream to have my face on Mount Rushmore?' I started laughing. He wasn't laughing, so he was totally serious."
Although Noem has not announced any plans to add Trump's face to Mount Rushmore, she reportedly presented him with a four-foot replica of Mount Rushmore with his image when he visited the state last month for the Fourth of July.
On Saturday, The New York Times published an article claiming Trump's friendly relationship with Noem has caused some concern for Vice President Mike Pence, who reportedly fears the South Dakota governor may want his job.
Following chatter that the president had a White House aide inquire about the process of adding his face to Mount Rushmore, the New York Times reported that an official "noted that it is a federal, not state, monument."
The statement appears to suggest that White House employees are aware of the correct steps that would need to be taken for if Trump was serious about his comment.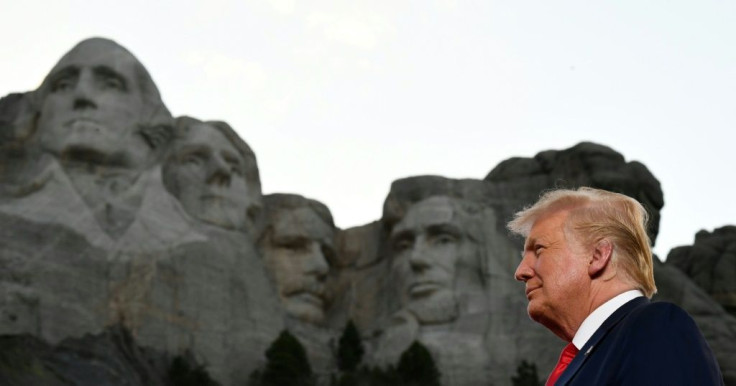 © Copyright IBTimes 2023. All rights reserved.
FOLLOW MORE IBT NEWS ON THE BELOW CHANNELS