Discount Broadway Tickets: 7 Ways To Get Deals, Cheap Seats This Holiday Season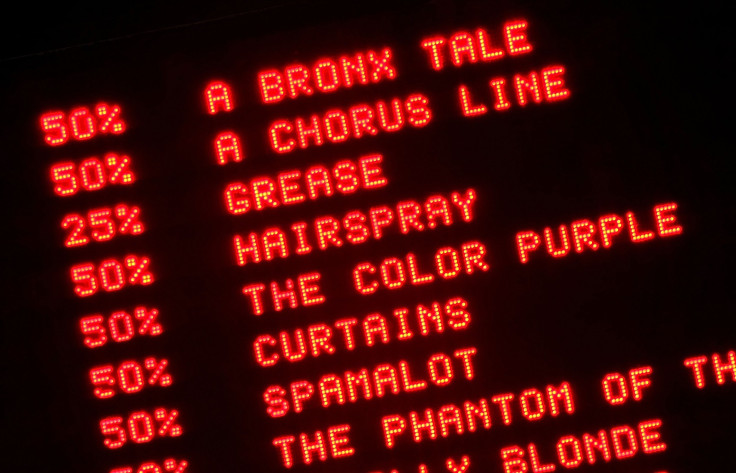 If you're heading to New York for Christmas, you might want to catch a Broadway show. However, they aren't cheap. Luckily, there are a few ways to avoid paying full price for tickets to a Broadway play or musical.
Playbill — Playbill offers many substantial discounts on their website, and they don't even require you to make an account. Simply look at their list and see if your preferred show is on their list of deals, grab the discount code and you're good to go.
Rush Tickets — If you don't mind potentially not getting tickets, rush tickets are great. Line up at a theater box office when it opens at around 10 a.m. or so, and typically, tickets priced between $30 and $50 tickets will be available. The downside to this is that you can't plan in advance, and the rush tickets are first come, first served. Not every theater offers this, but many — including "Beautiful: The Carole King Musical," "A Bronx Tale," "Chicago," "The Color Purple" and more — offer it. Check out the individual show's website to get details on rush tickets.
Broadway Box — This website also provides discount codes. "School of Rock," "Waitress" and "Matilda" are just a few of the shows being offered with prices marked down more than $40 each.
Lottery Tickets — This is one of the more difficult ways to get tickets, depending on how popular the show is. Musicals like "Hamilton" and "Aladdin" have even moved their lotteries online because of how many people enter. If the lottery is online, you simply enter your information and wait for an email telling you that you won. If it's in person, as it is at "Book of Mormon," you just have to arrive to the show a couple hours early. The chances of winning might be small, but so is the price. Lottery tickets are usually under $30.
TodayTix — This app offers many day-of-show discounts with lottery and general rush tickets, but they have a special holiday pre-sale section too. Browse the TodayTix website for deals on select shows with performance dates from Dec. 20 through Jan. 1.
Student Tickets — Broadway understands if you're buried in student loans, and they're willing to help out. Tix4Students gives some deep discounts to those seeking an education, and many individual shows offer student deals (check their website to make sure before heading to the box office, though).
Theatre Development Fund — They sponsor the TKTS Booth in Times Square, which offers 50% discounts on same-day tickets, but those who want to plan ahead might look into a Theatre Development Fund membership. It's a $34 investment, but it could result in savings that are much greater. Students, teachers, union members, retirees, members of the armed forces and more are eligible to be a TDF member. The organization promises that members won't pay more than $47 for a ticket.
If you need recommendations about which Broadway shows to see, check out our list of the best performances on the Great White Way this holiday season.
© Copyright IBTimes 2023. All rights reserved.