Dish Network Sling TV Review: Can You Finally Cut The Cable Cord?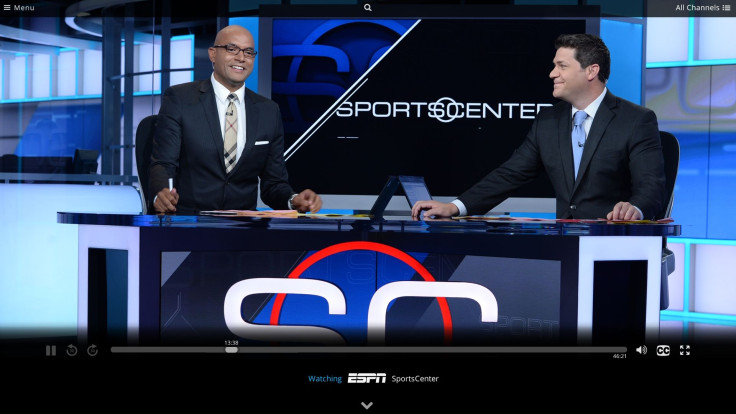 The distinct unpleasantness of sitting through eight minutes of commercials is probably the single most off-putting aspect of watching live television, and unfortunately it may be one of the first sensations felt by new subscribers of Sling TV, the over-the-top television service launching this month from Dish Network Corp.
The service, which offers a low-cost, bare-bones bundle of cable channels that users can stream on mobile devices or TV sets, is aimed at a specific segment of consumers -- viewers who have either cut the cable cord or who have never had one to begin with. The problem with marketing live TV to that mostly younger demographic is that many of them may have little or no memory of what it's like to labor through several 30-second commercial spots for car insurance before their favorite shows come back on. How do you convince a generation accustomed to YouTube's "skip ad" feature that reruns of "The Big Bang Theory" are worth the wait? My first experience with Sling was watching a rerun of the popular sitcom on TBS (hence the aforementioned eight minutes of commercials). Sling TV has the same amount of commercials as any live television, but watching them on a smaller device makes them seem longer, particularly because there's no way to skip through them.
It's a potential ripple in the commercial viability of Sling TV, a first-of-its-kind service announced to much ballyhoo earlier this month at the International Consumer Electronics Show in Las Vegas. The good news is, having spent the past several days using the product, I can say it works pretty much as it's supposed to. Just download the Sling TV app to your mobile device and you can begin watching live TV in seconds. The interface is intuitive and mostly seamless, with a sliding horizontal menu that prominently features the logos of each channel, making it easy to find what you want. The picture is incredibly sharp and the streaming quality first-rate, aside from the expected hiccups that go along with streaming high-quality video.
What do you get?
Sling TV is a subsidiary of Dish Network, but it's provided as a stand-alone product, meaning you don't have to be a current Dish subscriber to sign up. It's a streaming service, marketed as a complement to on-demand services like Netflix and Hulu. For $20 a month, users get the basic package of 12 cable channels: ESPN, ESPN2, TNT, TBS, Food Network, HGTV, Travel Channel, Adult Swim, Cartoon Network, Disney Channel, ABC Family and CNN. For an additional $5 a month, users can tack on additional mini-bundles. The service also includes movies and other video-on-demand offerings.
Notice the major broadcast networks aren't included in the package. The current bundle of offerings are hand-picked to offer a variety of content (sports, news, children's programing, etc.), but the Big Four have mostly resisted alternative distribution methods, hence the Supreme Court case that put Aereo Inc. out of business last year. It's expected that more channels will join Sling TV as time goes on; the challenge -- as Joseph P. Clayton told International Business Times earlier this month -- will be how to increase the offerings while keeping costs at bay.
Sling TV can be used on computers, mobile devices or on televisions using set-top units like Roku, Google Nexus or Amazon Fire TV.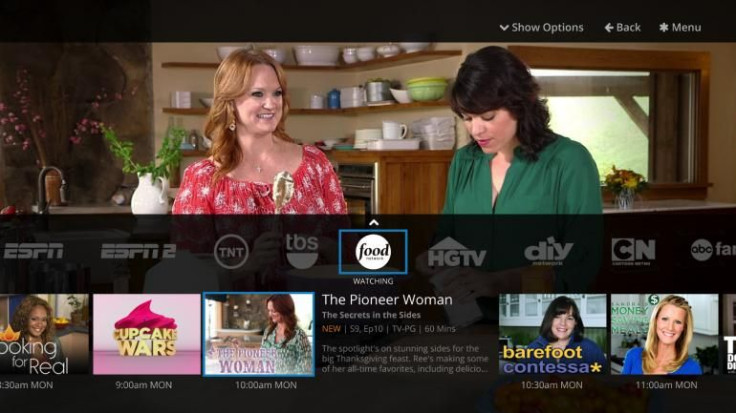 Is it worth it?
Given that Sling TV is admittedly going after cord-cutters and cord-nevers, $20 a month is nothing to sneeze at. Consider that when HBO announced its over-the-top service last year, many online commentators balked at the estimated $15-a-month price tag. This is a demographic, after all, that's used to paying nothing for television.
In Sling TV's case, the inclusion of ESPN is a key factor. The sports powerhouse owned by the Walt Disney Company is the most valuable network on television, both for viewers and advertisers. It's the channel most often cited among dissatisfied cable customers as the main reason they have not yet cut the cord, making it one of the few -- perhaps the only -- truly irreplaceable cable channel in existence. Which is why sports fans may very well jump at the chance to pay $20 for Sling TV, and non-sports fans may react with a collective shrug. Perhaps the most brilliant aspect of Dish's offer is that it requires no contract -- a tempting prospect even for commitment-averse millennials.
The bottom line
Sling isn't really an attack on the traditional cable bundle, and it isn't trying to be. Rather, Dish is hoping to fill a need in the marketplace, offering a live television experience to consumers who would rather go without it than pay the enormous rates (some would say ransom) charged by cable companies. At the same time, the much talked-about service is representative of the push and pull between an industry clutching to the status quo -- a bundled suite of cable channels sold to consumers in a one-size-fits-all package -- and consumers growing more and more accustomed to watching what they want on their own terms.
Cable and satellite companies are bleeding pay-TV subscribers as content companies push their programing fees higher and higher, and something has to give. Dish Network, in many ways, has been at the forefront of this fight. Over the past few months, it has waged high-profile battles with CBS Corp., Turner Broadcasting and 21st Century Fox Inc., leading to temporary blackouts of popular channels from Adult Swim to Fox News.
And therein lies another potential rub for Sling TV, the possibility that it will be too reliant on ESPN. Imagine paying $20 a month specifically for ESPN's live sports programming only to wake up one day to find it blocked as Dish and Disney hammer out a new contract. It could happen. Sling's terms of service give it the right to change or delete programming at any time. Unfortunately, that's a familiar caveat in any bundled product, no matter how slim.
Sling TV launches by invite on Tuesday with a general launch expected sometime in the next two weeks. The first batch of invites will begin rolling out at midnight to people who have pre-registered at sling.com. Pre-registrants will be accepted until the general launch.
Christopher Zara is a senior writer who covers media and culture. Got a news tip? Email me here. Follow me on Twitter @christopherzara.
FOR FREE to continue reading
✔️ Unlock the full content of International Business Times UK for free
offer available for a limited time only
✔️ Easily manage your Newsletters subscriptions and save your favourite articles
✔️ No payment method required
Already have an account?
Log in
© Copyright IBTimes 2023. All rights reserved.