Q&A: Dish CEO Joe Clayton On $20-Per-Month Sling TV ('If We Don't Stand Up For The Consumer, Who The Hell Will?')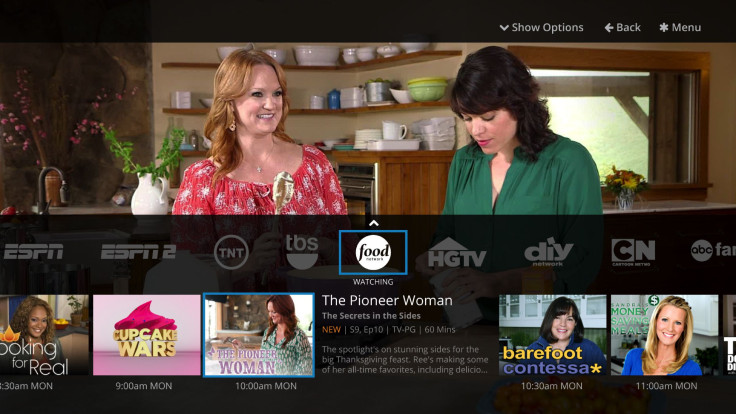 LAS VEGAS -- For decades, the pay TV bundle has been enormously profitable for the networks and cable and satellite providers, but cracks have started to show as subscriber rolls decline, particularly among young people. But this week Dish Network stepped in to disrupt its own model, launching a bundle of 13 channels -- including the expensive ESPN -- in a package delivered over the web for $20 a month.
The service, called Sling TV, will be the first of its kind when it launches, though many other similar services are on the way. We talked to Dish Network CEO Joseph P. Clayton on the floor of the International Consumer Electronics Show here about how he plans to add content, keep the price low for consumers while using the pipes of some of his competitors to deliver it, including the likes of Comcast and Verizon.
International Business Times: I assume you're going to be adding more channels -- doesn't that mean the price will also go up?
Joseph P. Clayton: It has to be something the consumer wants and it also has to be to be cost effective and it can fit into the bundle and not bust the $20 price.
IBT: So you're going to hold firm on $20?
Clayton: On the base package but there will be additional packages roughly around $5 a piece for people who want to enhance with a package; a kids package, a sports package, an hispanic package, we have an international package. People can tailor their content to their wants and needs. That's the bottom line.
IBT: You're piping this through broadband networks like Comcast and Verizon. Won't they just raise their prices for that service or throttle big consumers of data?
Clayton: If somebody tried to throttle the Internet there would be a revolution. Even Congress would get involved. That is never going to happen. For business, for consumers, for free expression an open Internet is the only thing that makes sense.
IBT: So you feel comfortable building this video business and delivering it through pipes you don't own?
Clayton: I do. It kind of looks like the FCC feels the same way.
IBT: Isn't this just a re-bundling of video? How do you think about packaging traditional linear TV with web-native content?
Clayton: That's what Maker TV is. Facebook and Twitter. Netflix is on the service. We are putting a lot of the nontraditional video services on Sling TV. It's a different customer segment so you've got to have different stuff, different price points. They're not going to watch the Outdoor Channel. I do. Our satellite TV [Dish Network] base is aged 35 to 55. It's pretty obvious to us there won't be a lot of cannibalization. The whole pay TV industry is missing the 18-35 year olds today. They're not going to pay $100 a month for the content. They're not going to watch 250 channels and they're not going to watch it on a 62-inch flat panel display. They're going to watch it on a smartphone or a tablet.
IBT: You've been working on this service for four years. What was the moment you realized you had to do it?
Clayton: The realization for me was when I started to see the decline in the basic cable TV market. All you have to do is look over the last two or three years. And it coincided with the average price point getting near to $100. Those two dynamics convinced me that we are going to lose the market in total if we don't take a different approach.
IBT: Do you feel you'll be able to keep programming costs low as you add channels?
Clayton: Our approach is always consumer-centric; use technology to make the viewing experience easier. And to keep the cost down because it's affordable. If we don't stand up for the rights of the consumer, who the hell will? I'm surprised there aren't more companies taking the approach we do. The customer changes the economy changes the technology changes and the competition changes. You better change or you'll be roadkill on the entertainment superhighway.
IBT: Why name it "Sling" and not just another version of "Dish?"
Clayton: Dish attracts a different customer segment and we wanted something that was new. Dish is a brand for satellite TV; Sling is a brand for Internet video.
IBT: Would you spin out Sling into a separate company?
Clayton: It's a possibility. We leverage the Dish infrastructure, the billing, the customer service. You want to spread as much of your overhead costs over as many products as possible.
IBT: You've had long career in satellite TV (DirecTV) and satellite radio (Sirius). At what point did you see this coming?
Clayton: Technology is normally evolutionary; rarely was it a revolution. Satellite TV was a revolution. Satellite radio was am evolution. Did I seen streaming video coming? I'm not that good. If I did I'd be at the racetrack.
© Copyright IBTimes 2023. All rights reserved.