Disturbing Video Shows Live Donkey Being Fed To Tigers At Zoo In China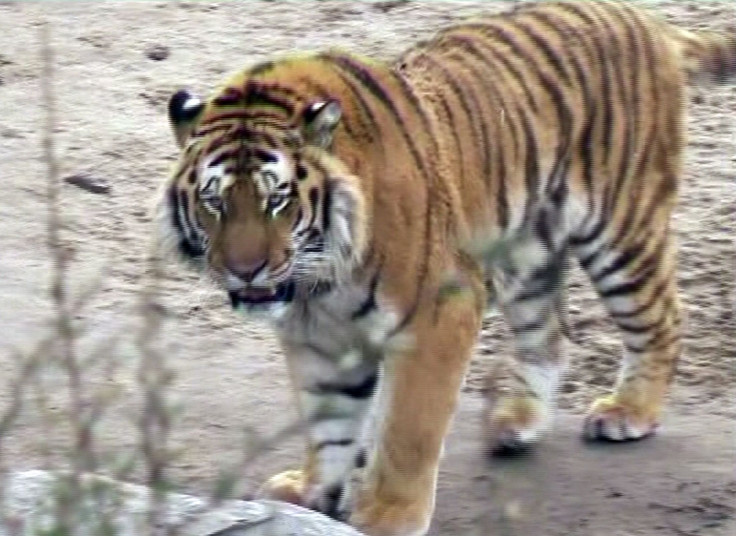 A disturbing video of a group of zoo shareholders in China feeding a live donkey to tigers has sparked outrage online. The incident occurred Monday at Yancheng Safari Park in Jiangsu, a Chinese province outside Shanghai, after a dispute between the shareholders and the zoo's management. The group reportedly would have also fed a sheep to the tigers had security not intervened.
The video was captured by a bystander, and onlookers can be heard screaming as tigers rush the donkey, the Guardian reported Wednesday. Disgruntled shareholders can be seen carting the animal to the edge of an enclosure with a moat-like body of water, then shoving the donkey off a wooden ramp. Two tigers immediately went for the donkey and it reportedly struggled for approximately 30 minutes before it died.
The Guardian reports that the frustrated shareholders, who had invested in the zoo two years ago, acted in retaliation after receiving no financial returns since the zoo became involved in a lawsuit with another unidentified company, management said in a statement. The zoo could not afford to pay its investors after its assets were frozen by a local court.
Read: Zoo Safety: After Poachers Kill Rhino For Horn At French Zoo, Call For Better Protection For Endangered Animals
The BBC reported Tuesday that "several" other animals — including a chimpanzee and two giraffes — in need of medical treatment died at the zoo because it could not obtain permits required to have them taken elsewhere to receive care.
According to the statement, which was translated by the Guardian, the shareholders reportedly felt that both the court and zoo were "conspiring to cheat small investors of their investments." The BBC reported they were "filled with anger for a long time" both over their investments and the aforementioned animal deaths.
The shareholders had originally planned to transport the animals out of the zoo to sell them, the BBC reported, but were ultimately foiled by the zoo's security.
Read: Missing Red Panda Latest: Virginia Zoo Searching For Cousin Of Giant Panda Lost Tuesday
One unnamed shareholder told Chinese newspaper The Paper, "Since we can't have any benefits, we thought why not feed them to the tigers, at least we can save on animal feed."
The zoo is "deeply sorry" and would work to ensure "a similar incident would never happen again," BBC reported. The zoo also said it was working to alleviate its legal problems with its shareholders.
The video has sparked outrage in viewers who've taken to social media to lament the senseless killing.
"Disgusting vile humans for the cruelty, despicable act of pushing a beautiful living donkey into a tiger enclosure," wrote one Twitter user, "they need to punished."
"Okay so these shareholders are angry about profits & animals not getting proper treatment in time?!" wrote another. "But they throw in a donkey to be mauled by a tiger & wanted to throw in sheep before being stopped?! Twisted & evil logic!"
"Just saw a video of a live donkey being pushed into a tiger pen at a zoo in china," said another, "whyyyyy are people horrific."
However, similar incidents are not uncommon in China's zoos and safaris. "Visitors to a tiger farm in the north-eastern city of Harbin are able to witness tigers eat cows," the Telegraph reported Tuesday, "and they can also pay 60 yuan (£6.80) for live chickens to be thrown into the enclosures for 'entertainment.'"
© Copyright IBTimes 2023. All rights reserved.
FOLLOW MORE IBT NEWS ON THE BELOW CHANNELS