DNC 2020 Recap: Biden Accepts Democratic Nomination, Calls For Unity, Hope
KEY POINTS
Joe Biden frames his fight for the presidency as one of light versus darkness
He offers a vision of hope and unity to defeat Donald Trump in November
"For love is more powerful than hate. Hope is more powerful than fear, and light is more powerful than dark," said Biden
In a powerful, passionate and sometimes angry speech framed as a battle of light against darkness, former vice president Joe Biden promised to lead Americans to a brighter future if elected president over incumbant Donald Trump.
Biden's speech accepting the Democratic presidential nomination from his hometown of Wilmington, Del., is being hailed as the best of his career by politcal pundits across the spectrum. Even Fox News admitted the speech was very effective.
On Thursday night, the finale of the virtual Democratic National Convention, Biden laid it out in the simplest and starkest of terms: the election on Nov. 3 is a battle of light against darkness. Without once mentioning Trump by name, Biden said this president has "cloaked America in darkness for far too long" with "too much fear and division."
The country is grappling with rising inequity and shirking opportunity, Biden said, claiming Trump has failed at his top responsibility -- to protect the American people.The U.S. faces one of its most difficult moments as it confronts four historical crises simultaneously, he added.
Battering the country is the worst pandemic in 100 years; the worst economic crisis since the Great Depression; the loudest calls for racial justice since the 1960s; and the accelerating threat of climate change. Biden asked Americans to judge Trump on the facts, which prove Trump's failure as a leader.
Biden said COVID-19 cases and deaths will remain far too high if Trump is reelected. Mom-and-pop stores will shut and the wealthiest will get billions of taxpayer dollars.
America is at inflection point, said Biden, where the nation can become angrier "or choose a different path and together heal." He asked Americans to reform and unite and choose the path of hope and light. "United we can and will overcome this season of darkness," he said.
Biden promised to draw on the best of us, not the worst. He also vowed to be "an ally of the light and not the darkness," adding that he has a plan to accomplish the Democrats' goal.
"Trump still has no plan," said Biden. "I do."
Biden said his plan will start by taking take control of the virus that has taken such a heavy toll on the country.
"We need to deal with virus to get out lives back," he said.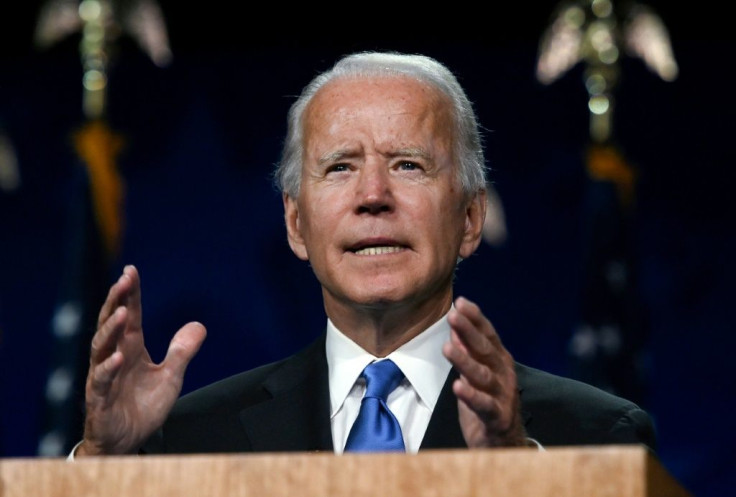 Biden said his economic plan, Build Back Better, is about jobs, dignity, respect and community. He said his plan will create 5 million new jobs so the future is made in America, not in other countries. He vowed to put in place an education system that trains young Americans for best jobs of the 21st century.
He said America needs an immigration system that empowers the economy, and stronger labor unions and higher wages. Biden promised to pay essential workers better, and ease the massive student-debt burden so it doesn't crush young Americans when they get out of college.
"I believe there is only one way forward -- a united America," argued Biden.
He called for an America united in a firm determination to make the coming years bright, and to make America a light to the world once again. He promised to "work hard for those who did not support me, as hard for them as I did for those who did vote for me."
"Let us begin you and I together one nation under God, united in our love for America, united in our love for each other," Biden said in concluding his speech. "For love is more powerful than hate. Hope is more powerful than fear, and light is more powerful than dark. This is our moment. This is our mission."
Among the supporters talking about Biden earlier in the evening were eight former challengers for the Democratic presidential nomination. Or, as New Jersey Sen. Corey Booker jokingly called all of them, the castaways from "Survivor" who were voted off the island.
Joining Booker were Senators Bernie Sanders, I-Vt.; Elizabeth Warren, D-Mass.; Amy Klobuchar, D-Minn.; former South Bend, Ind., Mayor Pete Buttigieg; former Texas congressman Beto O'Rourke; businessman Andrew Yang; and former New York Mayor Michael Bloomberg.
Klobuchar testified to Biden's kindness, relating an incident when he stayed up late to watch one of her floor speeches "where no one was watching." Biden called her after the speech to congratulate her. "He's watching and he cares," she said.
Buttigieg talked about a state primary where Biden told him about one of his people who had experienced a personal tragedy. Buttigieg was surprised Biden knew, and said this was "just basic to who he is."
Warren said she saw Biden the clearest was during the first anniversary of the Boston Marathon bombing. She said that as Biden began talking, he shifted to the parent who had lost his wife and child and as someone experienced loss very personally, "and he spoke to each of families from the heart," she said.
"The magic of Joe Biden is that everything he does becomes the new reasonable," Yang said of Biden's policy positions. "Everyone's going to follow his lead."
O'Rourke said he's still optimistic about the U.S. despite the very dark days faced by young people. He praised Biden and vice presidential running mate Sen. Kamala Harris for listening to the young generation.
Sanders said the election in November "is clearly the most important election in the modern history of this country." He said that in Biden "you have a human being who is empathetic, who is honest, who is decent. And at this particular moment in American history, my God, that is something this country absolutely needs."
Bloomberg attacked Trump and elicited one of only two tweets from the president on the night. Unlike Wednesday when he let loose a volley of tweets, written in capital letters, Trump's response was limited to shots at Bloomberg and Biden: "In 47 years, Joe did none of the things of which he now speaks. He will never change, just words!" Trump also hammered Biden in his birthplace of Scranton, Pa. earlier Thursday.
Next week is Trump and the Republicans' turn to make their case to the American people as the virtual GOP convention kicks off Monday.
© Copyright IBTimes 2023. All rights reserved.