Do Black Lives Matter In Schools? Philadelphia Teachers Launch BLM Week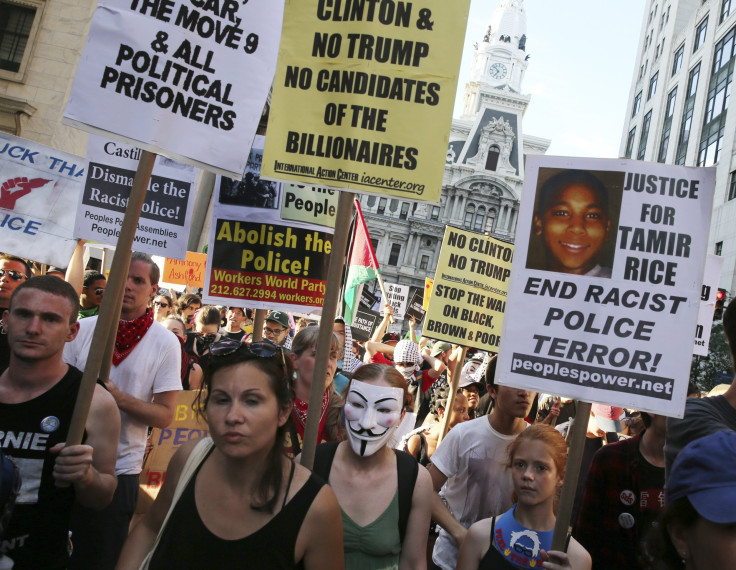 Philadelphia public schools students will be taught lessons on Black Lives Matter starting Monday as part of a "week of action" planned by an activist group within the Philadelphia teacher's union.
Lessons and activities on Black Lives Matter will include coloring pages in a book called "The Revolution Is Always Now" for younger students, and lessons for older students on the science of skin color, the Philadelphia Inquirer reported. The lessons are not mandatory, and the decision to integrate them into the curriculum will be made by individual teachers. The week of action was planned by the Caucus of Working Educators, a group operating within the larger Philadelphia Teacher's Federation.
Week of action organizers have provided lesson plans online and scheduled nightly forums, panels and screenings. They have also assigned each day a "guiding principle," including "Diversity, Globalism," "Trans-Affirming, Queer Affirming & Collective Value" and "Black Women, Unapologetically Black."
"This is a critical issue of our time — in our society, but also in our students' lives," said Charlie McGeehan, an English and history teacher and member of the Caucus of Working Educators, told the Inquirer. "It's important for us to dive in."
The Philadelphia school district serves 134,000 students, half of whom are black, the district's website says. Some teachers voiced opposition to the "week of action," citing the overtly political nature of the Black Lives Matter movement.
"It challenges nuclear families, and our justice system," English teacher Christopher Paslay told the Inquirer. "I don't think kids should be taught that Western society is perpetrating a war on black people."
But other educators have argued that teachers must bring Black Lives Matter into the classroom to engage students to think critically about one of the most popular and divisive social movements of the 21st century.
"They're reading it in their social media platforms, they're reading it on Facebook and Instagram and they're seeing what's happening,"Jinnie Spiegler, the director of curriculum for the Anti-Defamation League, told the Atlantic in July. "But they're not having the opportunity to really talk about it, to read about it, to learn what actually happened and think critically about it."
© Copyright IBTimes 2023. All rights reserved.