'Doctor Who' Season 9 Spoilers: Is Clara Leaving Forever? Jenna Coleman Hints At Return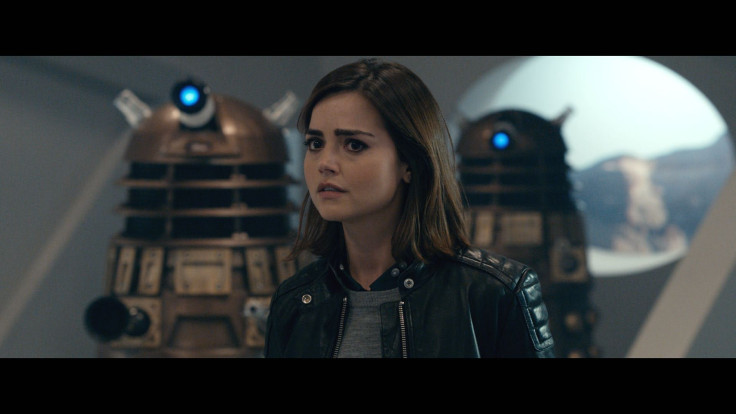 Jenna Coleman is leaving the TARDIS, but she's keeping the door open to come back. Just a week after announcing her departure, Coleman revealed that she is open to returning as Clara.
"Yeah, I would always be happy if there was a good story," she told Entertainment Weekly. "But I think we'll have to see what happens."
Nearly all of the Doctor's female companions have returned for at least a guest appearance after leaving "Doctor Who." Rose (Billie Piper), Martha (Freema Agyeman) and Donna (Catherine Tate) all returned for David Tennant's last episode as the Tenth Doctor. Amy (Karen Gillan) returned as a hallucination in Matt Smith's finale as the Eleventh Doctor. It would seem likely that Clara might return whenever Peter Capaldi decides he's had enough of traveling through time and space.
Of course, Coleman was already tempted enough to return once before. She was initially supposed to leave at the end of "Doctor Who" Season 8, but she changed her mind. However, it looks like the actress has made up her mind this time. The announcement has been made and she booked a gig as Queen Victoria in a new TV show.
Coleman has already filmed her final scenes (for now). The 29-year-old said that it was hard to remain in character on such an emotional day. "It was just really weird," she explained. "But we film out of sequence as well so, my last part with Peter, I couldn't quite look at him because it wasn't supposed to be a sad part. It's hard to go into detail without telling you anything, but I was really overwhelmed. I recognize that it's a special part of my life."
Clara was introduced in "Doctor Who" Season 7. She confirmed that Season 9 would be her last in an interview on BBC Radio 1 last week. "[Writer] Steven [Moffat] and I sat down a year and a half ago and tried to work out the best place to do it and tell a really good story," Coleman revealed (via BBC News). "We're not going to give any details but it will happen at some point this season... We worked out a really good story arc out so hopefully people will love it."
Fans are hoping they haven't seen the last of Clara yet. She seemingly died in the Season 9 premiere, but saying that she could return seems to imply that the Doctor will change her fate in episode 2.
"Doctor Who" Season 9 airs Saturdays at 9 p.m. EDT on BBC America.
© Copyright IBTimes 2023. All rights reserved.