DOJ Sues Ferguson: Civil Rights Lawsuit Follows Federal Rejection Of Changes To Consent Decree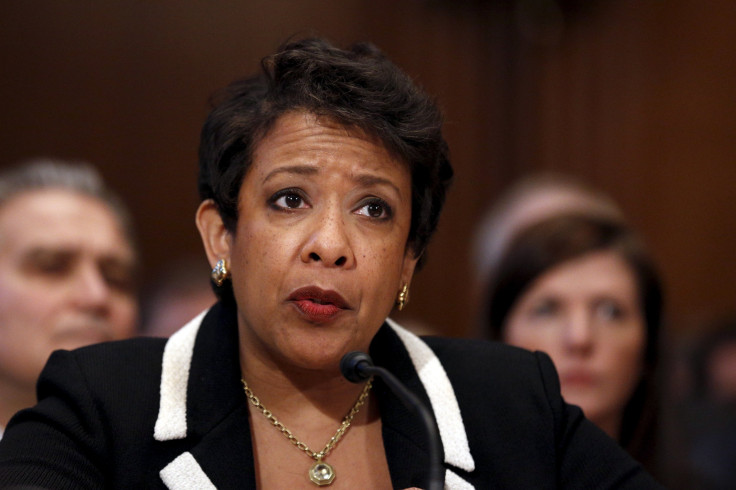 The U.S. Department of Justice made good on its threat to sue the city of Ferguson, Missouri, by announcing a civil rights action against the community rocked by the 2014 fatal police shooting of a young black man. Attorney General Loretta Lynch announced Wednesday the legal action stemming from pattern and practice of police conduct that federal investigators deemed unconstitutional last spring.
"After announcing our findings one year ago, we began negotiations with the city of Ferguson on a court-enforceable consent decree that would bring about necessary police and court reform," Lynch said in a press conference Wednesday evening. "From the outset, we made clear that our goal was to reach an agreement to avoid litigation. But we also made clear that if there was no agreement, we would be forced to go to court to protect the rights of Ferguson residents."
Earlier this week, the City Council voted to approve an agreement with the Justice Department that would have staved off the civil rights actions related to unfair law enforcement practices that disproportionately ensnared black residents in the court system and led to poor police-community relations. But the councilors asked for several changes to that agreement, arguing that full compliance would bankrupt the city — an argument that the Justice Department rejected early Wednesday.
Vanita Gupta, the deputy assistant attorney general for civil rights, said the Ferguson City Council created an "unnecessary delay" by voting to amend its consent decree agreement that would reform the police department. Those reforms include giving officers bias-awareness training and enforce an accountability system, which would require outside monitors at the city's expense.
Number of People Killed by Police by State | Graphiq
Last March, following the August 2014 shooting of 18-year-old Michael Brown by Darren Wilson, a Ferguson police officer, the Justice Department urged Ferguson officials to enact the reforms after it found evidence that law enforcement decisions such as ticketing and arrests were routinely based on things as trivial as the way residents expressed themselves, and were encouraged in the interest of raising revenue through the city's court system. The "unconstitutional" practices were also driven by racial bias and disproportionately impacted African-American residents, Lynch said Wednesday.
"The residents of Ferguson have suffered the deprivation of their constitutional rights — the rights guaranteed to all Americans — for decades," Lynch said. "They have waited decades for justice. They should not be forced to wait any longer."
© Copyright IBTimes 2022. All rights reserved.
FOLLOW MORE IBT NEWS ON THE BELOW CHANNELS