Donald Trump Approval Rating: Even Diehard Republicans Disapprove Of New President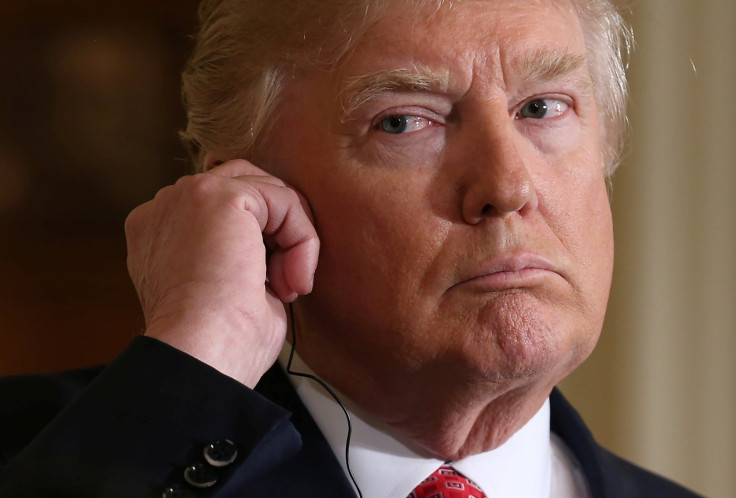 After President Donald Trump's first few weeks in office, 49 percent of Iowans have disapproved of Trump's job so far, according to a poll from Des Moines Register/Mediacom Iowa Poll released Tuesday evening. Forty-two percent showed their approval.
Those approval ratings split sharply along party lines: 82 percent of Republicans were in approval of Trump's actions so far, while only 10 percent of Democrats approved. Disapproval ratings were totally reversed: 10 percent of Republicans disapproved of Trump's job while 86 percent of Democrats disapproved.
Among independents, 50 percent disapproved of Trump's presidency, and 39 percent approved. That's significant, as many people who voted for Barack Obama crossed party lines to vote for Trump. In fact, 200 counties that went for Obama twice swayed to Trump in 2016. That figure included several counties in eastern Iowa.
"He scares me every time he tweets," said poll respondent Clarissa Gadient, a political independent. "I mean, really and truly, it's about security, and I don't feel it at all."
Trump won Iowa, which has historically been considered a swing state, in the November election. He received 51 percent of the vote, beating his Democratic rival Hillary Clinton by nine percentage points.
Compared to previous presidents, Trump's approval ratings for his first few weeks were significantly low. In 2009, about 68 percent of Iowans approved of Obama. President Bill Clinton had a 73 percent approval rating among Iowans in 1993, and Presidents George W. Bush and Ronald Reagan each had a 54 percent approval rating after their first few weeks in office.
Vice President Mike Pence got higher marks, though. Forty-eight percent of Iowans approved of Pence, while 38 percent disapproved. Pence also had a remarkably high approval rating from Republicans at 90 percent. His approval ratings from independents was 44 percent, and 16 percent from Democrats.
The poll was conducted last week. It surveyed 802 Iowa residents with a margin of error of 3.5 percentage points. The poll reflected national numbers nationwide, as Trump had a 44.3 percent approval ratings according to numbers from Real Clear Politics.
© Copyright IBTimes 2023. All rights reserved.