Donald Trump Cabinet Latest Update: New Secretary Of State Candidates Emerge After Ben Carson Picked For HUD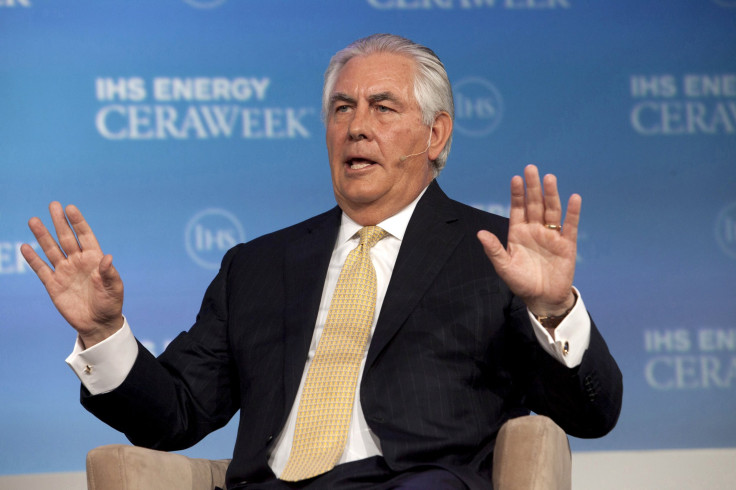 Amid aftershocks from his unprecedented call with Taiwan in full flaunt of China and decades of diplomacy, President-elect Donald Trump's search for the next face of the State Department widened Sunday as he's expected to make a decision on the critical top diplomatic post later this week, according to a report by Politico. Adm. James G. Stavridis, who was in the running for Hilary Clinton's vice presidential selection, and Exxon Mobil CEO Rex W. Tillerson joined Mitt Romney, Rudy Giuliani, and Gen. and former CIA Director David Petraeus in the race for secretary of state.
"It is true that he's broadened the search," top Trump aide and campaign manager Kellyanne Conway told reporters at Trump Tower Sunday. "That list is expanding because at the moment, there are no — there is not a finite list of finalists only because he will interview with additional candidates early this week."
Conway also slightly hinted that the present list of suitors might not be the last, emphasizing there is still time to fill one of the most important cabinet posts.
"But who knows how many finalists there will be," she added. "It's a big decision, and nobody should rush through it."
Trump could also decide to bring a seasoned statesman in as soon as possible following his highly controversial call with Taiwan's President Tsai Ing-wen last week. The conversation sparked an immediate outcry from China, which has long refused to recognize Taiwan as an independent nation, and on Monday the leading Communist Party further denounced the president-elect.
The party published a front-page editorial in the People's Daily saying "creating troubles for the China-U.S. relationship is creating troubles for the U.S. itself," The New York Times reported.
After insisting it was Tsai who reached out first, Trump appeared to double-down on provoking China Sunday on Twitter. He wrote on Twitter: "Did China ask us if it was OK to devalue their currency (making it hard for our companies to compete)."
Trump has been flirting with Romney, Giuliani and Petraeus for secretary of state for weeks, but the addition of Tillerson and Stavridis offers a hint of what Trump may be looking for in his top diplomat. Tillerson, 64, was named CEO of Exxon in 2006 and his expertise not only in the global oil markets but his geopolitical business dealings could help Trump pull off one of his biggest campaign promises of hindering companies from leaving the country or shipping jobs overseas. Meanwhile, Stavridis, 61, retired from the Navy but was a supreme allied commander of NATO and a dean of the Fletcher School of Law and Diplomacy at Tufts University in Massachusetts, providing both military and diplomacy skills in one. He is reportedly scheduled to meet with Trump Thursday, according to Reuters.
Trump and his transition team also made headway on another important office Monday by tapping former foe and Republican presidential nominee Dr. Ben Carson for Secretary of Housing and Urban Development, according to several reports.
© Copyright IBTimes 2023. All rights reserved.