Donald Trump Did Not Win This Year's Nobel Peace Prize
KEY POINTS
The Nobel Peace Prize this year went to the U.N. World Food Program
Donald Trump lost out on the peace award once again
Trump was also nominated by his supporters in 2018 for his work with North Korea
President Donald Trump didn't win this year's Nobel Peace Prize after scoring another nomination from his supporters.
On Friday, the Norwegian Nobel Committee announced that the prize has been awarded to the U.N. World Food Program (WFP), Associated Press reported. The humanitarian organization delivers food assistance in emergencies and aims to "end hunger, achieve food security and improved nutrition by 2030," according to its website.
This is not the first time Trump has failed to take home the peace award. BBC reported that Trump's name was put forward by Norwegian politician Christian Tybring-Gjedde and another lawmaker for the Nobel Peace Prize in 2018 due to his efforts to bring reconciliation to North and South Korea, but he lost out on the prestigious award.
In September, Tybring-Gjedde nominated Trump once more for the recognition for his role in the peace deal between Israel and the United Arab Emirates.
Two years ago, Trump compared losing the Nobel Peace Prize selection to being robbed of an Emmy Award for his former reality show, "The Apprentice."
"Well, they'll never give it to me. We should have gotten the Emmy for 'The Apprentice', you know?" he told The New York Post in 2018.
Trump's reality competition show had been nominated for an Emmy eight times but never won. After Trump left the show in 2015, Arnold Schwarzenegger took over as host for "Celebrity Apprentice" but quit after just one season.
"I had the No. 1 show, The Apprentice," Trump continued. "Arnold Schwarzenegger blew it. Big movie star. It was dead in two nights. I had it for 14 seasons."
Trump also talked about his Nobel Peace Prize nomination during a September campaign rally in Ohio.
"So I turn on NBC with Lester Holt, another beauty, and they start with a hurricane, and then they went to something, and something else, and I'm saying, 'First lady, this is getting a little embarrassing, with 20 minutes into a half-hour show, they haven't mentioned the Nobel Peace Prize,'" Trump said, CNN reported.
"And then it went through the whole show and they never mentioned. And then I got nominated for a second one and they never mentioned. And when Barack Obama, Barack Hussein Obama, got nominated, no when Barack Hussein Obama got nominated, he didn't know why he was nominated. It was like right at the very beginning. He didn't do anything. He did nothing! And he got nominated. It was the biggest story I've ever seen. But that's OK. In the meantime, we're president, and they're not, right? We, we," he continued.
Former President Barack Obama won the Nobel Peace Prize in 2009. Joe Biden was also nominated for the peace award this year but didn't win as well.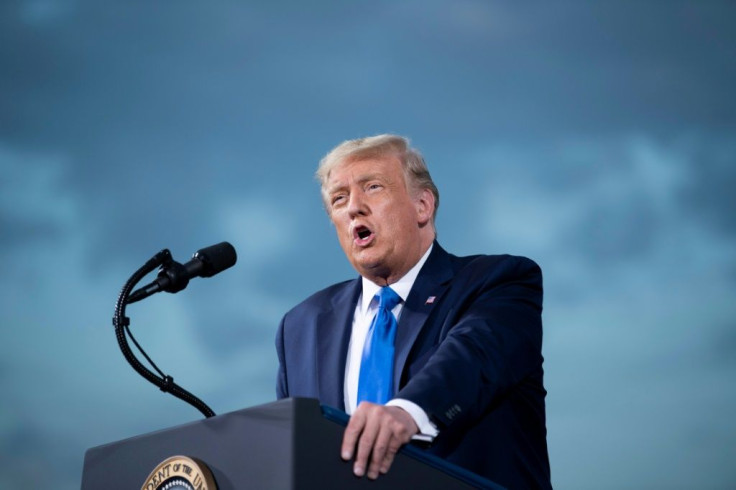 © Copyright IBTimes 2023. All rights reserved.