Donald Trump Inauguration: Billionaires Sheldon Adelson, Steve Wynn Join President-Elect's Team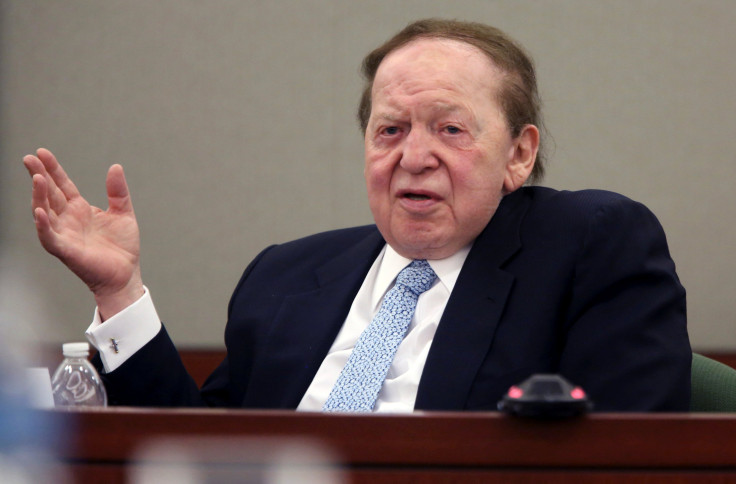 President-elect Donald Trump has been enlisting the help of some of his billionaire friends for his upcoming inauguration. Casino moguls Sheldon Adelson and Steve Wynn have joined the committee for Trump's event, scheduled for Jan. 20, reported USA Today Tuesday night.
Wynn and Adelson are listed as finance vice chairs. Wynn is the chairman of casino resorts bearing his name, while Adelson is the chairman of Las Vegas Sands Corp. Trump, meanwhile, ran casinos in Atlantic City, New Jersey and Las Vegas.
"Well we got our first casino owner in the White House," said Ron Reese, a spokesman for Adelson told Bloomberg.
Adelson and Wynn are joined on the committee by a handful of other notable names, including New York Jets owner Woody Johnson, gambling magnate Phil Ruffin and Gail Icahn, the wife of famed investor Carl Icahn. Thomas Barrack is heading up the inauguration committee. Barrack is the founder of the investment firm Colony Capital and helped set up a super PAC for Trump's campaign.
There was not yet a budget for the inauguration, but the team in charge of gathering funds for President Barack Obama's 2009 event raised $53 million, USA Today reported.
Adelson, who also owns the Las Vegas Review-Journal, was a major supporter for Trump and was lauded by the president-elect during the campaign. "Did you read that this morning in your good paper?" Trump said, referencing a Review-Journal article on Obamacare during an October rally in Nevada. "Good paper, owned by a great guy — Sheldon, Sheldon, Sheldon Adelson." He later added that the billionaire was a "great supporter of Israel." Wynn, who has regularly backed Republicans, was initially unsure about supporting Trump but has seemingly come around.
While the group planning Trump's January party seems to be coming together, the team charged with transitioning the president-elect into the White House is in apparent disarray. There have been a series of defections and ousters as Vice-President-elect Mike Pence took power over the transition team from New Jersey Gov. Chris Christie.
There has been particular concern from experts on both sides of the aisle about Trump's national security team. Eliot Cohen, a conservative who served a counselor of the State Department from 2007-2009, wrote in the Washington Post that "the president-elect is surrounding himself with mediocrities whose chief qualification seems to be unquestioning loyalty."
Meanwhile, there remains anger over Trump's selection of Stephen Bannon as his chief strategist. Bannon is the former executive chairman of the Breitbart News Network, which he called the platform for the alt-right, a group with a strong population of white nationalists and neo-Nazis. The Southern Poverty Law Center called Breitbart a "white ethno-nationalist propaganda mill."
© Copyright IBTimes 2022. All rights reserved.
FOLLOW MORE IBT NEWS ON THE BELOW CHANNELS