Donald Trump Jr's Twitter Has Been Going Off The Rails, Here Are 5 Examples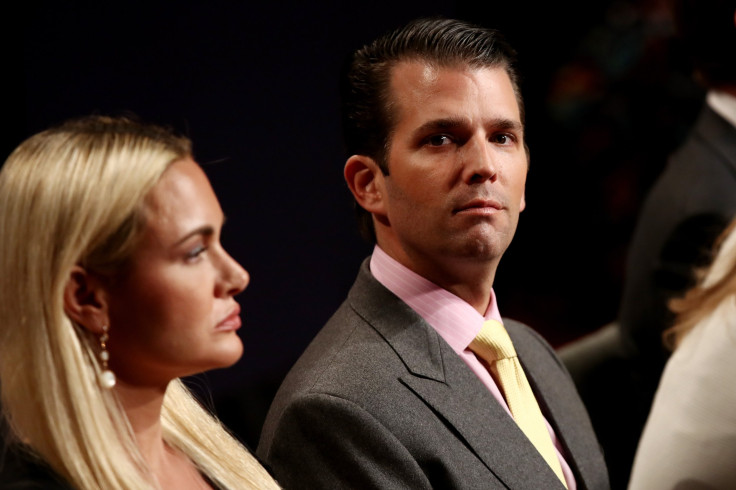 Donald Trump Jr. has always been his father's most ardent defender on Twitter. But in the last week, his postings have shifted to a sharp offensive against President Trump's perceived media enemies — most notably cable news network CNN.
The president's eldest son's left little doubt about his new direction when he expressed support for the conspiracy theory that CNN blackmailed a teenaged boy.
"So I guess they weren't effective threatening the admin so they go after & bully a 15 y/o? Seems in line w their 'standards,'" Donald Trump Jr. wrote on Twitter following the tweet with the hashtag #CNNBlackmail.
"CNNBlackmail" referred to a report Wednesday by the news network that tracked down the origins of an edited wrestling video, first posted on Reddit, and then retweeted by President Trump.
READ: What's #CNNBlackmail? Donald Trump Jr Spreads Rumor That CNN Coerced A 15-Year-Old
CNN refused to name the Reddit user while right-wing media outlets pressed that CNN coerced a 15-year-old. Despite CNN rejecting the claim, Donald Trump Jr. used the rumor to cast suspicion on the network.
This theme continued in other posts by Donald Trump Jr., who repeatedly attacked CNN's CEO Jeffrey Zucker in tweets alleging that the network bullies and intimidates citizens. "Also CNN: Let's bully and intimidate citizens online so they never question our #fakenews again!" referencing a quote by Zucker in the New York Times Thursday.
It didn't end there. Donald Trump Jr. also attacked CNN's White House correspondent Jim Acosta on Thursday, suggesting that the media had a liberal bias for the Obama administration.
Additionally, Donald Trump Jr. celebrated the news that "South Park" co-creator Trey Parker had told the Los Angeles Times that the Comedy Central satirical program would go back to the roots of the show by focusing less on top current events, which have previously included mocking President Trump's behavior.
"We fell into the same trap that 'Saturday Night Live' fell into, where it was like, 'Dude, we're just becoming CNN now.' We're becoming, 'Tune in to see what we're going to say about Trump.' [Co-creator Matt Stone] and I hated it but we got stuck in it somehow," Parker said.
READ: Trump Sons Catching Animals: Donald Jr. Shark Photo, Video Cause Controversy After Hunting Scandal
Perhaps confused by Parker's comments, Donald Trump Jr. referenced a Daily Caller article to suggest that Parker was disparaging CNN.
On Friday, Donald Trump Jr. again retweeted a Daily Caller article, this time about CNN dipping to No. 13 in cable rankings, to which he added the response: "But they'll always be #1 in #FakeNews."
Donald Trump Jr. also had a problem with the way that meetings at the G20 summit have been going, particularly with the amount of media coverage and photographs.
He tweeted Friday "With all the Cameras clicking away rapid fire you can't actually hear what they're saying? How many pictures do you need of the same scene?"
© Copyright IBTimes 2023. All rights reserved.
FOLLOW MORE IBT NEWS ON THE BELOW CHANNELS