Trump Sons Catching Animals: Donald Jr. Shark Photo, Video Cause Controversy After Hunting Scandal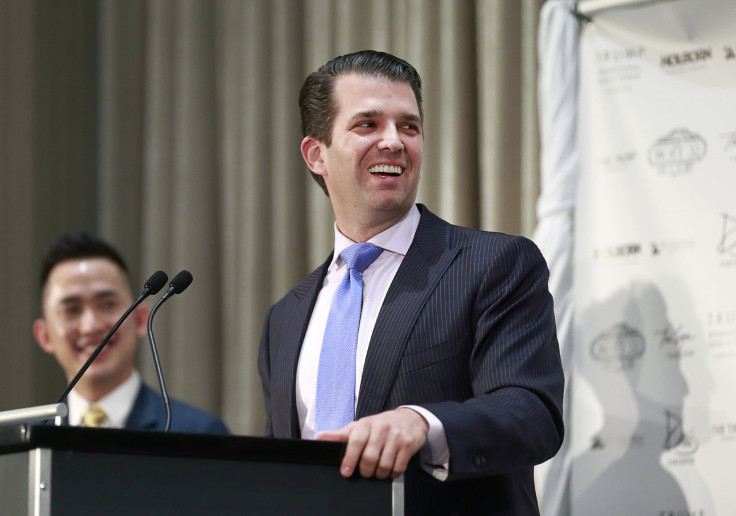 First son Donald Trump Jr. caught a shark this week on a Florida beach -- and then caught flak for it online. Trump, the United States president's oldest son, sparked a wide-ranging Instagram argument this week when he posted a photo of himself holding a shark he'd reeled in, the Bradenton Herald reported Friday.
"This is what happens when momma lets the boys loose in Florida for a few days... Shhh, don't tell her," Trump wrote in the caption. "This is one of half dozen Blacktip sharks (ALL CATCH AND RELEASE) we had on, 2 of which were attacked by a huge hammerhead (800+ pounds) all right off the beach. Insane day on the water."
Trump was appearing on BlacktipH, which calls itself "the most subscribed online fishing show in the world." The YouTube-based episodes, all based around conservation, have garnered more than 157 million views, according to the BlacktipH website. Trump's experience -- which showed him reeling in the shark, pulling it onto the beach, celebrating the catch and posing for photographs -- was streamed live Sunday.
Read: Trophy Hunting Touted As Hope For Kenya Wildlife, But Conservationists See An Alternative
While many of the initial comments on Trump's picture were complimentary, congratulating him for releasing the creature, others worried he hurt the shark. "Thanks for releasing, but it still hurts," user perefettorivera wrote. "Please find more humane helpful trips with the boys. We love your family and know you can't please us all, but you are so fortunate and capable of so much more."
The concern may be well-founded: Blacktip sharks are one of a few species of sharks that can be especially traumatized by catch-and-release incidents, as expert Robert Hueter told the Herald last year.
Environmental news site Earth Touch wrote that "Trump Jr. should have forgone the posed family photo" per a recommendation from the Florida Fish and Wildlife Conservation Commission.
"Capturing a catch on camera is a great way to share your experience with others and to create lasting memorabilia," the commission says on its website. "It is okay to take a picture of a fish that is not allowed to be harvested while it's in the process of being released, but it still must be let go immediately after. A fish should not be held out of the water for long periods of time just for the purpose of taking a picture."
In any case, this week's post wasn't the first time an animal picture has landed Trump in metaphorical hot water. He and his brother, Eric Trump, have been criticized in recent years for hunting large game animals -- and taking trophy photos -- in Africa and Canada, according to the Washington Post.
© Copyright IBTimes 2023. All rights reserved.