Donald Trump Judge Controversy: Supreme Court Nominee Neil Gorsuch Calls President's Remarks 'Disheartening,' 'Demoralizing'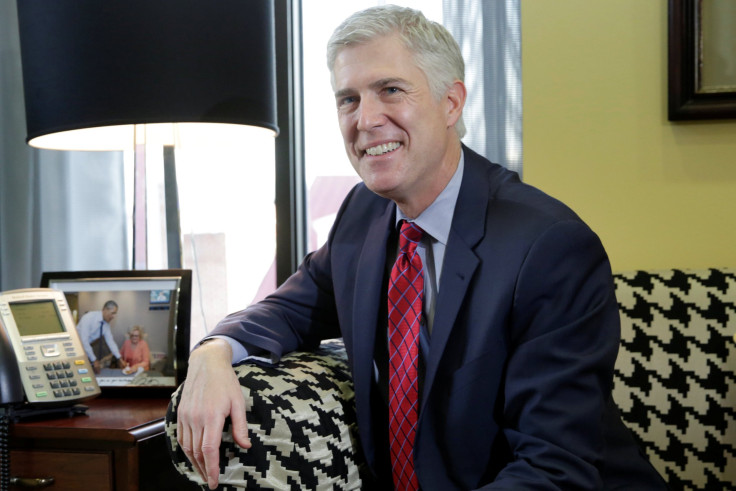 U.S. President Donald Trump's nominee for the Supreme Court on Wednesday distanced himself from the president, calling Trump's comments on a federal judge "demoralizing" and "disheartening."
Politico confirmed federal Appellate Judge Neil Gorsuch, who was making the rounds in Washington this week, made the comments during a meeting with Sen. Richard Blumenthal, D-Conn.
Politico said a Gorsuch spokesman confirmed the comments were made.
Trump attacked Seattle U.S. District Judge James Robart, a George W. Bush appointee, for putting a halt on Trump's executive order blocking travel from seven Muslim-majority countries. The issue is now before the 9th U.S. Circuit Court of Appeals in San Francisco.
Trump called Robart a "so-called judge" and said if there were any terror attacks on the United States, it would be the judge's fault.
The attack was Trump's second against a federal judge. During the campaign he questioned the impartiality of U.S. District Judge Gonzalo Curiel, who was born in Indiana, because of his Mexican heritage after Curiel ruled against him in a lawsuit involving the now-defunct Trump University.
The controversy raised questions on whether Gorsuch could be independent of Trump if his nomination is confirmed.
The Washington Post reported Gorsuch's record indicates he is skeptical of government power.
Sen. Amy Klobuchar, D-Minn., said Sunday on ABC's "This Week" Democrats would be looking carefully at Gorsuch's independence.
"We need a nominee for the Supreme Court willing to demonstrate he or she will not cower to an overreaching executive," Sen. Patrick Leahy, D-Vt., echoed.
Gorsuch was nominated to replace the late Supreme Court Justice Antonin Scalia, who died nearly a year ago. Republicans refused to give former President Barack Obama's nominee, Appellate Judge Merrick Garland, a hearing, saying a new justice should not be confirmed during an election year.
Democrats have indicated they will put Gorsuch through the wringer.
Senate Minority Leader Chuck Schumer, D-N.Y., said every time Trump attacks the judiciary, he "raises the bar even higher for Judge Gorsuch's nomination to serve on the Supreme Court," adding, Trump's remarks show disdain for the judiciary.
Gorsuch, 49, currently sits on the 10th U.S. Circuit Court of Appeals in Denver and is considered a conservative in Scalia's mold. He needs to win over eight Democrats to surpass the 60-vote threshold his nomination will need to win Senate confirmation.
© Copyright IBTimes 2023. All rights reserved.