Donald Trump Lost The Election, Mexico Won't Pay For Racist 'Fucken' Wall, Former Mexican President Tweets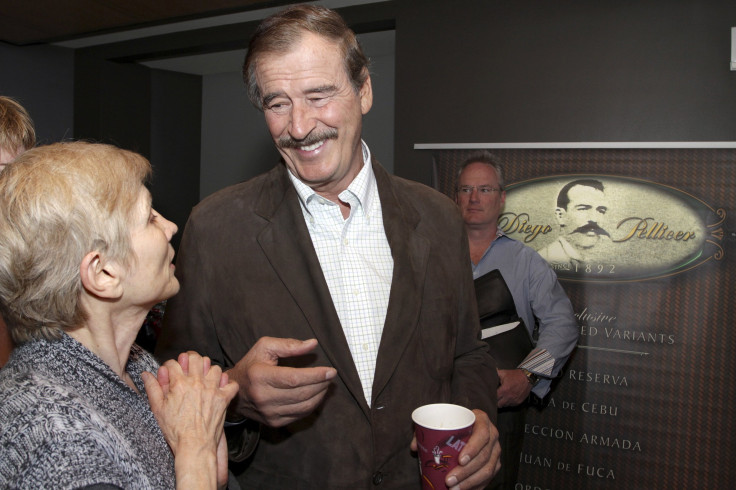 Former Mexican President Vicente Fox essentially told President-elect Donald Trump Friday to f--- off. Fox, a longtime critic of Trump's campaign promise to build a wall on the U.S.-Mexico border, tweeted that Mexico will not pay "for that f----- wall."
"Be clear with US tax payers. They will pay for it," Fox told Trump in a tweet. In another tweet, he wrote: "Losing election by more than 3M votes and in addition this.Are you a legitimate president?"
Fox, who led the National Action Party between 2000 and 2006, called the wall a "racist monument" and told Trump to be honest with Americans. "Trump may ask whoever he wants, but still neither myself nor Mexico are going to pay for his racist monument. Another promise he can't keep," Fox wrote on Twitter.
Trump seemed taken aback by the vulgarity, although he has been called out for using much more aggressive language before he entered politics. "FMR PRES of Mexico, Vicente Fox horribly used the F word when discussing the wall. He must apologize! If I did that there would be a uproar!" Trump tweeted.
Trump reaffirmed Friday that he wanted Mexico to pay for that wall to stop illegal immigration after media reports this week claimed Trump would seek funding from Congress to build the estimated $14 billion wall using U.S. taxpayer dollars. "Any money spent on building the Great Wall (for sake of speed), will be paid back by Mexico later," Trump tweeted.
Other Mexican leaders have firmly told Trump his idea is rubbish. In September, current Mexican president Enrique Peña Nieto wrote on Twitter: "I repeat what I told you personally Mr Trump: Mexico will never pay for a wall."
Mexican Foreign Secretary Claudia Ruiz Massieu said in November: "We've been very clear that Mexico will never consider paying for a wall that puts barriers between our two countries. We will not pay for it, because it goes against everything we believe our two countries can do together, are doing together."
© Copyright IBTimes 2023. All rights reserved.