Donald Trump Muslim Plan: What San Bernardino Terror Attack Survivors Say About His Registry, Travel Ban Proposal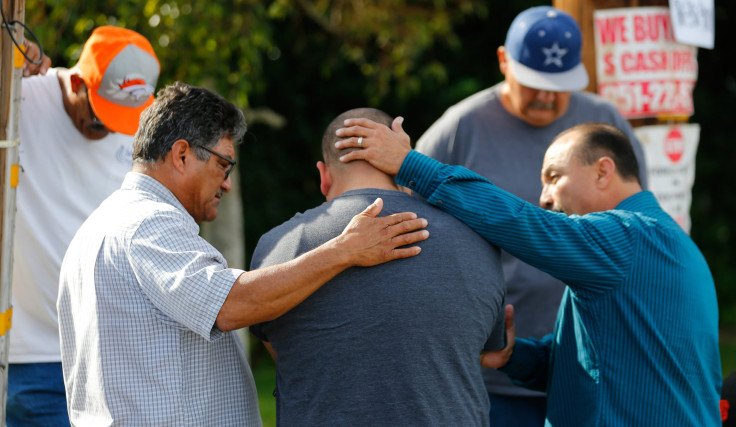 A year ago, Mandy Pifer and Shannon Johnson were preparing to tell their families that they were getting married. Instead, Johnson was shot dead along with 13 other coworkers in a brutal assault carried out by his San Bernardino Department of Public Health coworker Syed Farook and his wife, Tashfeen Malik. Johnson died shielding his co-worker from a hail of bullets.
Johnson, who Pifer describes on social media as her "soulmate," was a Christian interested in Hinduism who often discussed religion with Farook, his Muslim coworker and eventual killer. But Pifer said attempts to blame Islam for her partner's death are inappropriate. She criticized President-elect Donald Trump, who has called for a ban on Muslims traveling to the U.S., and his political ally, former New York City Mayor Rudolph Giuliani, of instigating "hate" toward Muslims.
"I think [Trump]'s a big bully who, with his ignorant attitude and fear based tactics, will get more innocent people killed. Guiliani is a hot-headed, fear-based, has-been who needed San Bernardino to happen in order to stay relevant. Hate begets Hate," Pifer told International Business Times.
A year after Farook and Malik opened fire at an office Christmas party, killing 14 of his coworkers and injuring 22 others in one of the deadliest acts of violence by militants since Sept. 11, 2001, a heated debate over how to stop future incidents of terror and mass shootings has rattled the nation. But in San Bernardino, the policy discussion isn't merely abstract. It's a conversation that some believe could have prevented unnecessary deaths, while others say blaming Muslims dishonors the victims, many of whom supported religious tolerance.
During the presidential election that culminated in Trump's victory in November, the Republican business mogul routinely described Muslims as anti-American and won in part because of his vow after the San Bernardino massacre to crack down on Muslims both coming to and already living in the U.S. As a candidate, Trump repeated the disputed claim that Farook's neighbors saw the bombs that ultimately failed to detonate during the attack and did not report them to authorities.
More recently, as president-elect, he and his potential cabinet members, including Guilani, have said they will consider implementing a Muslim registry to keep track of anyone associated with Islam. After an attack this week carried out by a Muslim student at Ohio State University, Trump tweeted: "ISIS is taking credit for the terrible stabbing attack at Ohio State University by a Somali refugee who should not have been in our country."
President Barack Obama and civil liberities activists have warned that blaming all Muslims for the violence carried out by a few violates the First Amendment and will only further alienate some Americans. Critics also cite the need to protect the civil rights of the nation's many law-abiding, peaceful Muslims.
Ayman Taleb, 31, is the director of the Islamic Center of Riverside, a nearby mosque once attended by San Bernardino attack survivor Anies Kondoker and the two killers. He rejects the idea of Islam as a security threat and called Trump's efforts "shameful."
Taleb was born and raised in Dallas and called himself "a rootin-tootin son-of-a-gun" proud of both his Muslim and American identities. Taleb, a second-generation alumnus of the University of North Texas, moved to Riverside in March to be closer to his in-laws and became director of the religious center in August.
"In America, if you're anything other than a WASP, then you're defined as the 'other,' and whenever a few select individuals do something outside the law, the entire community is associated. No community should have to bear the responsibility, no community should have to apologize or be asked to apologize," Taleb said in a telephone interview, using an acronym used to describe individuals who are Protestant and of white, Anglo-Saxon descent.
Taleb, who released an Independence Day-themed, religious music video earlier this year, emphasized that his values as a Muslim and a U.S. citizen were identical. Those beliefs, he said, vehemently oppose the mass shooting carried out by Farook, 28, and Malik, 29. The couple died in a police shootout hours after the bloody assault.
Taleb cited the couple's decision to stop attending services in 2014 and isolate themselves from the local Muslim community. Kondoker, on the other hand, was a devout Muslim who was among the couple's victims that day, Taleb said. She was shot in each arm and her abdomen during the terror attack.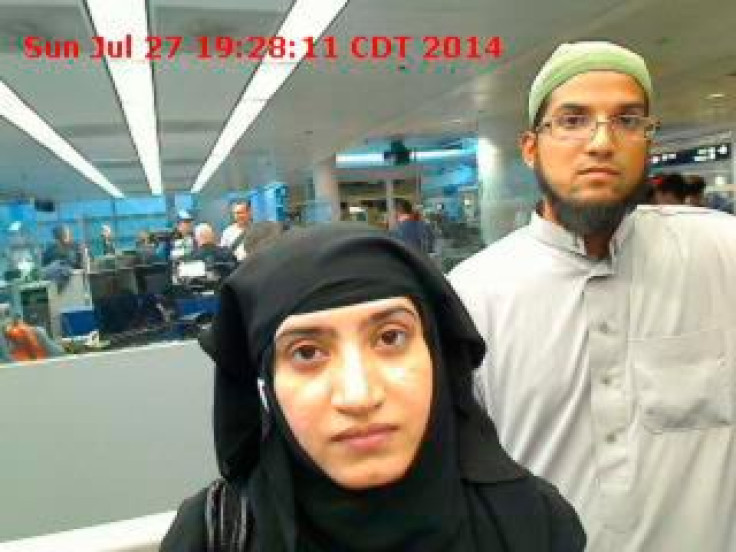 At least one person closely linked to the victims of the San Bernardino shooting, however, expressed concern about potential future terror attacks carried out by Muslims, especially after recent attacks in Florida and Ohio carried out by supporters of the Islamic State group. The former San Bernardino Environmental Health employee who asked not to be named worked alongside Farook for years and knew a number of those killed and injured.
She referred to the workspace as the "United Nations" because it employed people of all different backgrounds including many Middle Eastern countries. But after the shooting, she and husband said the U.S. had a responsibility to crackdown on a "criminal element" of people entering and already residing within the country.
"We fully support Trump. We fully support what he's doing to make this country safe again," she told International Business Times over the phone.
"We would like to see a stronger border. We would like to see the American citizen protected in his own country," her husband added.
She noted that Farook was a U.S. citizen, but suggested that his wife, a Pakistani national who lived in Saudi Arabia before legally coming to the U.S., was likely an influential factor in Farook's radicalization.
The woman said neighbors who may have noticed that Farook and Malik were up to suspicious activity did not report them for fear of being profiled. Had they spoken up, she said, her coworkers may still be alive.
© Copyright IBTimes 2022. All rights reserved.
FOLLOW MORE IBT NEWS ON THE BELOW CHANNELS