Is Donald Trump Obese? Republican Candidate Is Overweight According To His Body Mass Index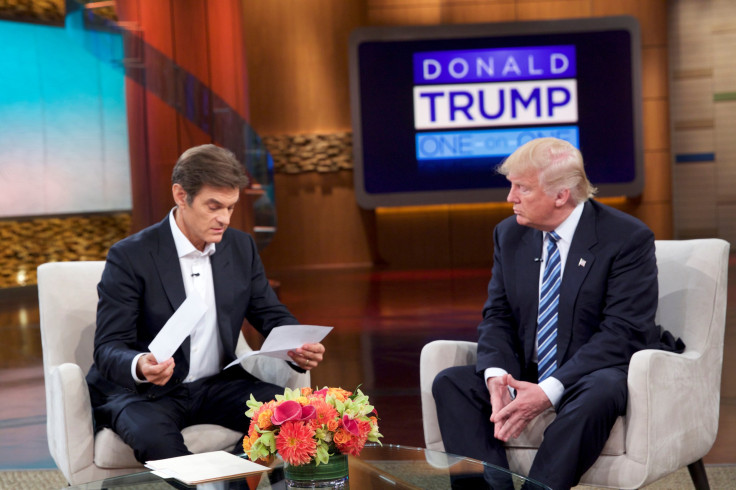 GOP presidential candidate Donald Trump shared a letter from his personal doctor this week that detailed his age, 70, and his cholesterol, blood pressure and liver function. It also suggested he was a tad chubby.
The letter from Dr. Harold N. Bornstein of Lenox Hill Hospital in New York shared with television host Dr. Oz and later the Washington Post Thursday morning included Trump's height and weight of 6-foot-3 and 236 pounds. According to the National Heart, Lung, and Blood Institute's body mass index calculator, the presidential hopeful scores a 29.5, half a point away from the measurement's obese category.
BMI, which has proponents and also many critics, measures a person's body fat compared to their height and weight, with a score lower than 18.5 labeling a person as underweight, scores of 18.5 to 24.9 as normal, 25 to 29.9 as overweight, and any score over 30 is obese. That means Trump is on the heavy side of the overweight scale. However, Trump's doctor said the candidate is in "excellent physical health."
A recent study published by the University of California-Los Angeles found BMI is not a reliable way to determine a person's health. Psychologists measured the link between BMI and other factors like blood pressure and cholesterol but found that almost half of the 24.4 million Americans who considered obese are actually healthy, while the 19.8 million considered overweight are also healthy, The Independent reported in February.
Questions about the health of both Trump and his Democratic rival, Hillary Clinton, made headlines this week after a video posted Sunday showed Clinton, 68, wobbling and needing assistance to her vehicle while in New York for the 15th anniversary of the Sept. 11, 2001 terrorist attacks. Clinton's campaign later said she had been diagnosed with bacterial pneumonia, but she opted not follow her doctor's orders, which included rest.
Clinton's campaign released more of her medical information Wednesday. Her doctor, Lisa Bardack of CareMount Medical in Mount Kisco, New York, said she had examined Clinton "at least" four times this month, according to CNN. Bardack also issued a statement saying Clinton is physically fit to serve as president. Clinton's campaign hasn't released further medical details.
Normally a better diet and exercise, things Trump has said he needs to improve, can help anyone improve their BMI and overall health.
© Copyright IBTimes 2023. All rights reserved.
FOLLOW MORE IBT NEWS ON THE BELOW CHANNELS