Is Donald Trump Racist? 15 Controversial Quotes President-Elect Said About Blacks, Hispanics, Jews, Asians And Obama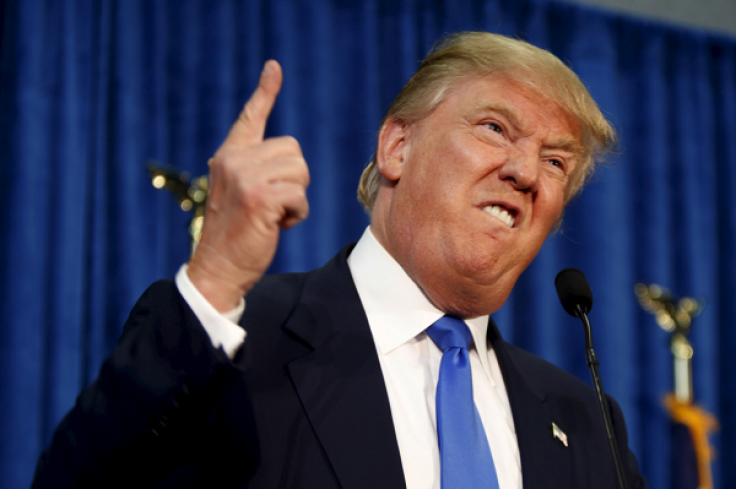 After winning the 2016 presidential election last week, Donald Trump said during his victory speech that he would be "president for all Americans." President Barak Obama has since urged the president-elect to keep his word and be a good leader for all U.S. citizens, regardless of their religion or skin color.
In an election year that has seen a growing number of attacks carried out against blacks, Jews, Muslims and Latinos, Trump has a history of divisive comments that have prompted many Americans to label him a racist who will only seek to help white America while serving in the White House. For his part, Trump insists he has no problem with people from different backgrounds and his words have been twisted by the media and Democratic critics.
Judge for yourself. Here are 15 quotes from the president-elect that have made many civil rights leaders and people of color fearful of a Trump White House.
1. "If you look at his wife, she was standing there. She had nothing to say. She probably, maybe she wasn't allowed to have anything to say. You tell me," Trump said in response to Khizr Kahn, the father of fallen Muslim Army Captain Humayun Khan, after his Democratic National Convention speech in July.
2. "I have a great relationship with the blacks. I've always had a great relationship with the blacks."
3. "Our great African-American president hasn't exactly had a positive impact on the thugs who are so happily and openly destroying Baltimore."
4. "When Mexico sends its people, they're not sending the best. They're not sending you, they're sending people that have lots of problems and they're bringing those problems with us. They're bringing drugs. They're bringing crime. They're rapists… And some, I assume, are good people," Trump said while announcing his campaign in June 2016.
5. "Black guys counting my money! I hate it. The only kind of people I want counting my money are short guys wearing yarmulkes… Those are the only kind of people I want counting my money. Nobody else…Besides that, I tell you something else. I think that's guy's lazy. And it's probably not his fault because laziness is a trait in blacks," John O'Donnell, a former president of Trump Plaza Hotel and Casino in Atlantic City, quoted Trump saying to him in his 1991 book. In May 1997, Trump was asked about his comment during an interview with Playboy, and he confirmed that "the stuff" O'Donnell wrote about him were "probably true."
6. "A well-educated black has a tremendous advantage over a well-educated white in terms of the job market. . . . If I were starting off today, I would love to be a well-educated black, because I believe they do have an actual advantage," Trump said in a 1989 interview with Bryant Gumbel.
7. "They don't look like Indians to me and they don't look like Indians to Indians," Trump said about his Native American casino competitors during a 1993 Congressional committee hearing on casinos operated and owned by Native American tribes.
8. "I would have no problem. I would love that. That would be wonderful," Trump said in response to Howard Stern asking his daughter Ivanka Trump if she would date a black man during a 2005 interview.
9. "He's a Mexican. We're building a wall between here and Mexico. The answer is, he is giving us very unfair rulings – rulings that people can't even believe," Trump said about Judge Gonzalo Curiel, who oversaw a class action lawsuit against Trump University. Curiel is a U.S. citizen who was born in Indiana.
10. "I'll take jobs back from China, I'll take jobs back from Japan. The Hispanics are going to get those jobs, and they're going to love Trump," Trump said in July during a visit to the U.S.-Mexico border.
11. "Look, I'm a negotiator like you folks; we're negotiators," Trump said while giving a speech to the Republican Jewish Coalition in December.
12. "Well, you know, when it comes to racism and racists, I am the least racist person there is. And I think most people that know me would tell you that. I am the least racist, I've had great relationships. In fact, Randall Pinkett won, on the as you know, on 'The Apprentice' a little while ago, a couple of years ago. And Randall's been outstanding in every way. So I mean, I am the least racist person," Trump said while defending himself against allegations of racism in May 2011 by pointing out he chose a black winner on his NBC show.
13. "Who the f knows? I mean, really, who knows how much the Japs will pay for Manhattan property these days?" Trump said referring to Japanese people during a January 1989 Time magazine profile.
14. "I'm leading in the polls with the Hispanics. I mean, you look at Nevada, I'm leading in the polls with the Hispanics because I produce jobs, and they know it. I have thousands of Hispanics that work for me, my relationships to Hispanics is better than those groups."
15. "He doesn't have a birth certificate, or if he does, there's something on that certificate that is very bad for him. Now, somebody told me -- and I have no idea if this is bad for him or not, but perhaps it would be -- that where it says 'religion,' it might have 'Muslim.' And if you're a Muslim, you don't change your religion, by the way," Trump said of Obama during a March 2011 appearance on The Laura Ingram show.
FOR FREE to continue reading
✔️ Unlock the full content of International Business Times UK for free
offer available for a limited time only
✔️ Easily manage your Newsletters subscriptions and save your favourite articles
✔️ No payment method required
Already have an account?
Log in
© Copyright IBTimes 2023. All rights reserved.