Donald Trump Sexual Assault Allegations: Billionaire Accused Of Groping, Kissing Women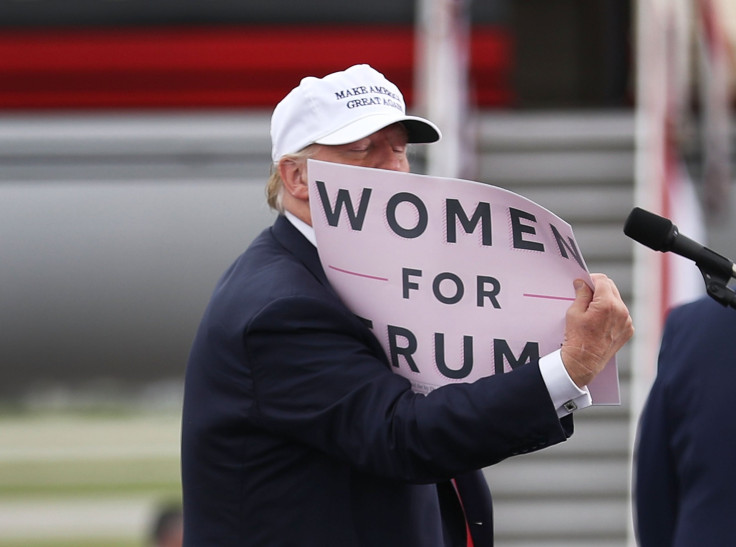 A fresh wave of sexual harassment allegations against Republican U.S. presidential candidate Donald Trump was making the rounds Wednesday. The allegations included an incident in which Trump appears to sexualize a young girl.
In a 1992 video released Wednesday, the real estate mogul who was 46 years old then looked at a group of young girls and said he would be dating one of them in 10 years. It is not immediately clear how old the girls were.
The video was shot at Trump Tower and shows Trump asking one of the girls if she was "going up the escalator." While the girl responds, Trump tells the camera: "I am going to be dating her in 10 years. Can you believe it?"
Trump has been under fire over his conduct with women since last Friday when the Washington Post released a 2005 video that featured him making lewd comments about women. During Sunday's second presidential debate, Trump was asked about the comments he had made and the 70-year-old vehemently denied that he had ever groped or kissed women without their permission.
"No, I have not," Trump said.
However, two women told the New York Times on Wednesday they had been groped and kissed by Trump without their permission. Jessica Leeds said the incident occurred almost three decades ago when she sat beside Trump in the first-class cabin of a flight to New York. Leeds said Trump had grabbed her breasts and tried to put his hand up her skirt.
"He was like an octopus. His hands were everywhere," she told the Times. "It was an assault."
Rachel Crooks was 22 years old when she met Trump in an elevator in the Trump Tower in Manhattan. Crooks introduced herself to the billionaire and said he wouldn't let her go. She said he "kissed me directly on the mouth."
"It was so inappropriate," Crooks said. "I was so upset that he thought I was so insignificant that he could do that."
Trump campaign's Senior Communications Advisor Jason Miller released a statement in response to the Times article: "This entire article is fiction, and for the New York Times to launch a completely false, coordinated character assassination against Mr. Trump on a topic like this is dangerous ... It sets a new low for where the media is willing to go in its efforts to determine this election."
Trump's lawyers have written to the Times' Executive Editor Dean Baquet calling the article "reckless" and "defamatory" demanding its immediate retraction and the issue of an apology.
In another instance, a Miss Teen USA pageant contestant told BuzzFeed on Wednesday night that Trump would walk into the girls' dressing room while they were changing. "It was certainly the most inappropriate time to meet us all for the first time," Victoria Hughes, the former Miss New Mexico Teen USA, said. "The youngest girl was 15, and I was the eldest at 19." Four other contestants came forward earlier alleging that Trump would walk into the group dressing room.
A People magazine reporter also said Wednesday that Trump had assaulted her right before she was to interview him and his wife Melania. "We walked into that room alone, and Trump shut the door behind us. I turned around, and within seconds he was pushing me against the wall and forcing his tongue down my throat," Natasha Stoynoff wrote.
A spokeswoman for the Trump campaign said the incident never occurred. "There is no merit or veracity to this fabricated story," she added.
Mindy McGillivray of Palm Springs, Florida, said Trump had groped her when she was 23 years old and helping a friend with a photo shoot. Speaking to the Palm Beach Post, McGillivray said: "All of a sudden I felt a grab, a little nudge. I think it's Ken's camera bag, that was my first instinct. I turn around and there's Donald. He sort of looked away quickly."
Trump's rival Hillary Clinton's campaign called the latest revelations "disturbing."
"This disturbing story sadly fits everything we know about the way Donald Trump has treated women. These reports suggest that he lied on the debate stage and that the disgusting behavior he bragged about in the tape are more than just words," Communications Director Jennifer Palmieri said in a statement.
© Copyright IBTimes 2023. All rights reserved.