Donald Trump 'Small Hands' Debate New Low In Politics, Jokes Stephen Colbert [VIDEO]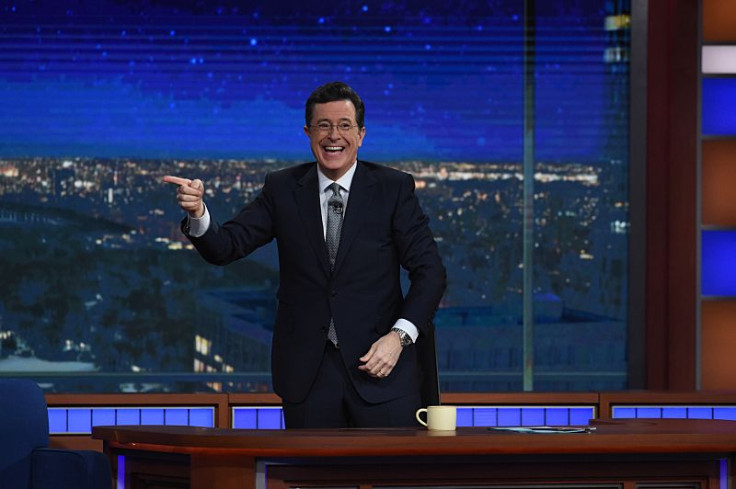 It had been four days since Republican front-runner Donald Trump defended his penis size on a national debate stage, but it was Stephen Colbert's first chance to crack a few jokes about the stunning political exchange on his own national stage.
On Monday's episode of "The Late Show with Stephen Colbert," the first since the March 3 Republican presidential debate in Detroit, the comedian devoted an entire segment to mocking Trump's surprising retort to Florida Sen. Marco Rubio's stump-speech taunts that Trump has undersized hands.
"This is what I do for a living," said Colbert, explaining why he felt the need to joke about the now-old news. "There is no way in hell I am going to let an entire election cycle go by without talking about this," he continued, introducing the video clip of Trump talking about his penis at the debate.
During the debate in Detroit, Trump brought up the matter himself. He held up his arms and said, "Look at my hands. Are they small?" He then noted how Rubio had implied at an earlier event that if Trump's hands were small, "then something else must be small." Trump insisted: "I guarantee you there's no problem."
"I'm sure it is true," Colbert said of Trump's claims. "Why would a guy with a small penis put his name on the side of a skyscraper?"
Colbert went on to call the exchange a "a new low in political discourse," introducing a graphic depicting a thermometer measuring the level of "low" in politics against other unsavory moments, such as the John Kerry "Swift Boat" controversy and Hillary Clinton's email scandal.
Watch Stephen Colbert chide Donald Trump's debate performance in the clip below:
Donald Trump and the rest of the GOP field will be looking for a win Tuesday in four states' primaries, including the winner-take-all state of Michigan. Trump has a commanding lead in the race with 387 delegates, followed by Texas Sen. Ted Cruz, with 300 delegates; Rubio, with 151 delegates, and Ohio Gov. John Kasich, with 37 delegates. Trump is leading in most polls of Michigan voters, but Kasich looks to be gaining ground.
© Copyright IBTimes 2023. All rights reserved.
FOLLOW MORE IBT NEWS ON THE BELOW CHANNELS