Sean Hannity Takes Heat From Conservatives For Hosting Donald Trump Warm-Up Event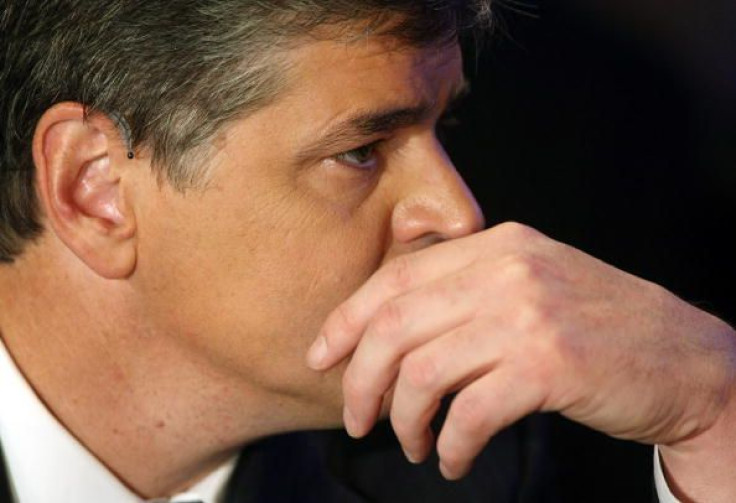 Like many conservative celebrities before him, Sean Hannity is going rogue. Until last week, the Fox News talking head has shied away from making critical remarks about any of the Republican presidential candidates. In fact, in an interview with International Business Times this winter, he found a nice thing to say about almost every one of them. ("Nice" is Hannity's own word.)
But now that Republican voters have spoken across 12 primary states, it appears Hannity has burned his bridge with Florida Sen. Marco Rubio and all but declared support for the billionaire populist insurgent Donald Trump.
"[Rubio] is now pawn for establishment. Sad to me. That's not man I knew," Hannity tweeted last week, with a certain Trumpian delivery ("Sad!"). He's come a long way from last year, when he told IBT that Rubio "will be president some day."
Meanwhile, Hannity has scheduled an exclusive, hourlong special with Trump this Wednesday in North Carolina, right before a campaign rally in the very same arena. He continues to fawn over Trump during interviews, even as the mogul takes potshots at his colleagues.
What's more, fellow conservative grandee and ex-Fox host Glenn Beck wrote last week that behind the scenes at CPAC, Hannity was "trying to convince me that Trump was the guy."
Camp Rubio is not happy: According to Politico, a Rubio staffer last week called Hannity "a f---ing asshole."
"He lets Trump trash everyone for months," the staffer reportedly said, "[b]ut Marco gives Donald a taste of his own medicine and Hannity gets all offended. He's a p---- and a sellout." Hannity, for his part, had a public meltdown over the quote.
Now more conservatives, some declared Hannity fans, are berating the host with articles and tweets accusing him of selling his soul to Trump.
"Sean Hannity now hosting live events with Trump, as he's running for President," wrote the Weekly Standard's Mark Hemingway on Monday. "Seems pretty over the line." With a heavy heart, Hannity devotee Mary Ramirez wrote an op-ed protesting Hannity's Trump turn. GOP consultant Matt Mackowiak simply referred to the pundit as a "Trump spox."
Hannity, not one to shy away from a row, has been defending himself from what Trump would call the "haters." Here is a small sample:
Hannity's getting a taste of what his competitors at MSNBC dealt with last month, when the so-called liberal network gave Trump an hourlong special hosted by Joe Scarborough and Mika Brzezinski, two declared friends of the mogul. That "town hall" was panned by media critics as chummy and, as Trump might put it, lightweight.
MSNBC, like Hannity, assured the press that Trump was not getting privileged treatment, and that it would follow up with one-hour specials with the other candidates. Marco Rubio's will air the same night as Hannity's Trump sitdown in the senator's home state of Florida.
Like Scarborough at MSNBC, Hannity has long been the channel's liaison to the Republican Party, but the rise of his good friend Trump has placed him in a compromising position as the rest of his network quietly rooted for the rise of Rubio. That dream has been slowly dying since Rubio failed to secure all but one primary state since Super Tuesday.
Fox News did not respond to a request for comment on Monday. Hannity continues to insist he is giving everyone fair time, assuring one Twitter user that Sen. Ted Cruz and Rubio will get their own hourlong specials when the time comes. In the meantime, he is simply using his access to the GOP front-runner to let his viewers make their own decisions.
Or, as he put it to another critic: "You want me to endorse your guy That's y U say that I will let THE PEOPLE DECIDE and fight every day to beat Hillary [sic]."
FOR FREE to continue reading
✔️ Unlock the full content of International Business Times UK for free
offer available for a limited time only
✔️ Easily manage your Newsletters subscriptions and save your favourite articles
✔️ No payment method required
Already have an account?
Log in
© Copyright IBTimes 2023. All rights reserved.