Donald Trump Vs. Hillary Clinton: After Super Tuesday, How He Can Beat Her In November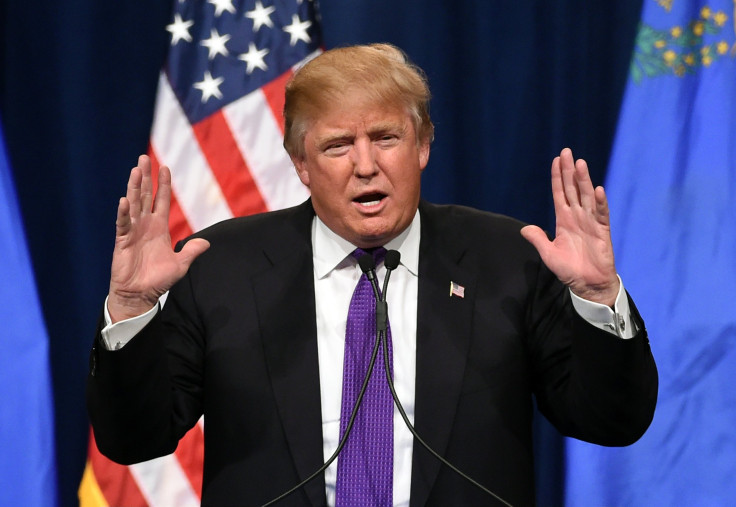 After Super Tuesday's primaries, it's looking increasingly likely that real estate tycoon Donald Trump and former Secretary of State Hillary Clinton will be their respective parties' nominees. And that means this election cycle is about to get even crazier — and probably uglier.
This was evident Tuesday night when Trump spoke in Florida after media outlets called at least four states in his favor. As he quietly thanked his supporters and ran through his platform, the billionaire took aim at his likely opponent. Trump told attendees he'd watched Clinton's speech earlier in the night and noticed how she said wages and "everything" were poor.
"If she hasn't straightened it out by now, she's not going to straighten it out in the next four years," Trump said, later adding that he was ready to "go after" Clinton.
Trump is known for his wealth, his marriages, "The Apprentice," his hair and his off-the-cuff remarks. He's proven over the past year that he'll insult nearly anything and anyone, including Mexican immigrants, Major League Baseball, fighter Ronda Rousey and the Neil Young song "Rockin' The Free World." If he and Clinton go head to head, she's his next target.
"I don't think he's going to change much in the sense of what he's doing in the Republican primary," said Lisa Boothe, founder and president of High Noon Strategies in Washington. "Obviously, what he's been doing is working."
In surveys taken just before Super Tuesday, Trump was polling around 42 percent nationwide, trailed by Texas Sen. Ted Cruz and Florida Sen. Marco Rubio with about 18 percent each. Clinton was beating Vermont Sen. Bernie Sanders by about 14 points.
Though the primary races are by no means over, Trump's already begun taunting the former first lady.
The New York Times reported he's tweeted, at various times, that she's "a major national security risk," "pathetic," "weak" and "disloyal." At an August GOP debate, he bragged that Clinton attended his third wedding after he donated to her nonprofit. In December, Trump called her husband, former President Bill Clinton, "one of the great abusers of the world" for his sexual history. He also said Hillary Clinton's choice to use the bathroom during a debate commercial break was "disgusting."
Just earlier this month, Trump told CNN he thought Clinton was "in a certain way, evil." On Tuesday he said she "does not have the strength or the stamina to be president," according to BBC News.
In the general election, Trump could also probably recycle some of the attacks he used on his former rivals — that they're career bureaucrats representing only lobbyists' interests. "There's this frustration with politicians who have been in the game for a significant period of time, and that's absolutely what Hillary Clinton represents," Boothe said.
Trump will likely capitalize on voters' anger with the state of the country under President Barack Obama, specifically the economy, Boothe added. Clinton, who served as Obama's secretary of state from 2009 to 2013, will be portrayed as an extension of him, and therefore could take heat for issues like stagnant wages.
Kyle Kondik, the managing editor of Sabato's Crystal Ball at the University of Virginia in Charlottesville, said Trump may even run to the left of Clinton. He's already started doing so when discussing campaign finance reform, boasting often that he's self-funding his White House bid.
But there's one thing Trump probably won't do: attack Clinton's appearance, Kondik said. Trump, who once at a debate implied Kentucky Sen. Rand Paul was ugly and referenced Fox News host Megyn Kelly's menstrual cycle, will likely resist because Clinton is a woman running for public office. It wouldn't sit well with undecided voters.
"It would be very easy for him to come across as a patronizing misogynist," Kondik added. "I think that would be a pretty bad strategy."
Clinton, for her part, doesn't appear to be afraid to hit back at Trump. She said Tuesday that the GOP primary has been "a kind of one-upmanship on insulting." In a speech earlier this week, Clinton parodied Trump's campaign slogan when she told voters, "I do believe that America remains great." She also condemned his slowness disavowing support from the Ku Klux Klan.
Clinton has the resources to fund opposition research that will help her run a "ruthless campaign" against Trump if he's the nominee, said Tim Albrecht, director of Albrecht Public Relations in Des Moines, Iowa. Overall, though, Albrecht said it's hard to make any predictions about how Trump will act — and how voters will react — because he's defied expectations so far.
"Donald Trump does not use a playbook, so it's doubtful he's thought about how to handle Hillary Clinton beyond his next tweet," Albrecht said. "This is an unpredictable year, and how this election will play out is still being written."
FOR FREE to continue reading
✔️ Unlock the full content of International Business Times UK for free
offer available for a limited time only
✔️ Easily manage your Newsletters subscriptions and save your favourite articles
✔️ No payment method required
Already have an account?
Log in
© Copyright IBTimes 2023. All rights reserved.