Massachusetts Super Tuesday Election Live Results: The 2016 Primary Winners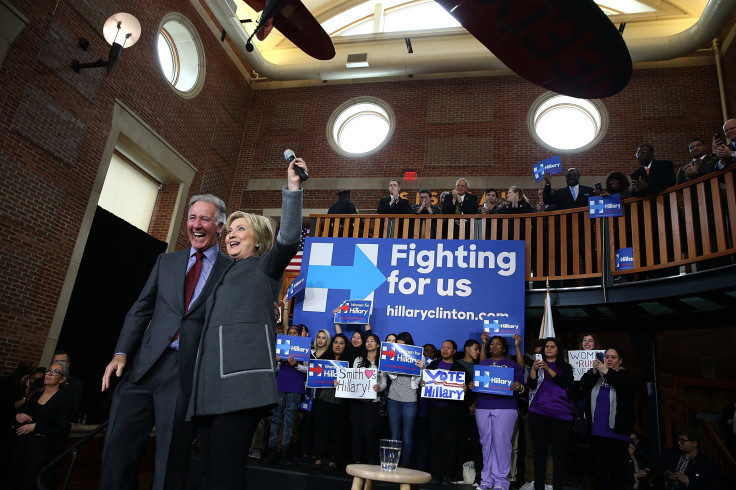 UPDATE: 11:50 p.m. EST — Hillary Clinton has won the Massachusetts Democratic primary, dealing a crushing defeat to Vermont Sen. Bernie Sanders.
Original story:
Donald Trump won the Republican primary in Massachusetts as voters took to the polls to make their voices heard on Super Tuesday. Pollsters had been favoring Trump to win by a wide margin, while in the Democratic contest between Vermont Sen. Bernie Sanders and former Secretary of State Hillary Clinton remained close.
Sanders had focused much of his campaign energy on the historically liberal state, and following a crushing defeat in South Carolina, the Vermont senator needed a win to continue as a viable candidate. Clinton enjoyed a slight lead in the state, seeing 46.8 percent of support from likely Democratic primary voters, compared to Sanders' 45 percent, according to Real Clear Politics, which takes the average of available poll data.
Both Democrats made their final pitches to Massachusetts primary voters Monday, as Clinton made campaign stops in Boston, Springfield and Worcester, and Sanders held a rally in Milton Monday evening.
"The day before Super Tuesday, when most states are in play, people will be caucusing and voting in primaries, and I thought I'd come here to ask for your support — the support of the people of western Massachusetts. ... All of you know here in Springfield, you are a city on the way back up," Clinton told supporters at a rally Monday, Mass Live reported. "I'm going to be a president and a partner to help you keep going."
Polls had predicted the Republican race would be far from close, with Trump leading with a spread of more than 25 points. Support for the real estate mogul hovered around 45 percent, while Florida Sen. Marco Rubio saw 17 percent support and Ohio Gov. John Kasich trailed slightly behind with 15 percent, according to Real Clear Politics.
© Copyright IBTimes 2023. All rights reserved.